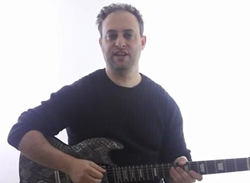 (PRWEB) August 08, 2014
"I want to show you a cool idea for a single string lick", says Johnson. Claude demonstrates the lick as follows; 9th fret of the 3rd string with first finger, 12th fret with 3rd finger and 14th fret with 4th finger. Claude starts by playing the 14th fret as triplets using the alternate picking technique and then does pull-offs to the 12th and then 9th frets and does this sequence repetitively changing the amount of times he picks the 14th fret randomly between doubling and tripling as he repeats the entire sequence. "It's easy to get a shred kind of sound with this", says Johnson. Claude suggests trying this idea on different strings and fret combinations and in different keys to vary it up. Claude also says that if you feel strain and fatigue in your hand because of the big stretch between fingers to be sure and take a break to rest your hand to avoid muscle strain or injury. Claude continues this easy beginner guitar lesson by demonstrating variations of the lick that incorporate it into other lick ideas. Guitar TAB's are available for this cool beginner guitar lesson at GuitarControl.com.
Claude Johnson
Claude Johnson, a native of Philadelphia PA, began playing guitar in 1990 after being inspired by players like Jimi Hendrix, Eric Clapton, and Stevie Ray Vaughn. He is the creator of GuitarControl.com and has helped 1000's of people to learn to play the guitar with his critically acclaimed instructional DVD courses, all available at GuitarControl.com
About GuitarControl.com
GuitarControl.com is the leader in modern guitar instruction. It's packed with resources including articles,video lessons, and the best videos in the business for the beginner to the advanced guitar student taught by the best instructors out there. Whether you are into the blues, rock, jazz, metal, folk, or anything in between, they have you covered.