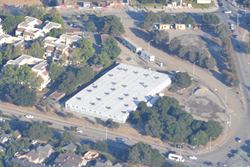 (PRWEB) August 12, 2014
Design Space Modular Buildings has completed construction of the project management offices (PMO) for the new Stanford Hospital. Under the contract Design Space manufactured and installed a 120'x120' and 132'x120 modular office complex, totaling over 28,000 square feet. Design Space's full scope of work included the architectural package, PMO building, foundation, delivery, installation, fire suppression system, and interior finishes. The building was installed in close proximity to the building site for the new Stanford Hospital. The hospital is replacing its 1950s-era facilities with a larger, more technological, and seismically sturdy hospital. The new building will be an impressive 824,000 square foot hospital facility. Site construction is under way and the new hospital is scheduled to be completed and open for patients in early 2018.
Design Space uses pre-manufactured modular buildings to provide its customers with mobile offices, job-site trailers, single and multi-story modular building complexes, and containers. Based throughout the western US, they serve customers from their 14 branches in eight States, including California, Arizona, Nevada, Oregon, Washington, Idaho, Montana, and North Dakota.
Whatever your office or educational space needs are, modular construction can be very attractive economically, architecturally and structurally. And in the case of Design Space, turn-key construction services are available too.
For more information on this project or Design Space Modular Buildings, you call 866-899-7777, or visit their website at http://www.DesignSpaceModular.com