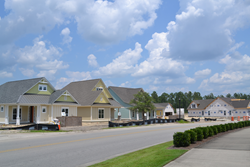 Coastal North Carolina's Fastest Growing Master-Planned Community
Wilmington, North Carolina (PRWEB) August 09, 2014
Wilmington, North Carolina is famous for its beaches, seafood, and historic plantations. It's also nestled near Brunswick Forest, one of the finest coastal North Carolina master-planned communities. The 4,500-acre coastal retreat is located just ten minutes from downtown Wilmington, one of the Top 100 Best Art Towns in America. Brunswick Forest amenities include community parks, creeks and streams, walking and biking trails and a wealth of other well-appointed amenities. New homes near Wilmington, North Carolina the ones found at Brunswick Forest come in a wide range including Floridian-style patio homes, Carolina bungalows, coastal cottages and premiere golf course homes.
The Woodlands at Meadow Park is the newest neighborhood at Brunswick Forest and boasts modern single family homes with craftsman and neo-traditional elements at a great value. Situated directly across from The Cottages at Meadow Park, right by the Brunswick Forest Loop around the picturesque nature area and just a two-minute walk to the Fitness and Wellness Center, The Woodlands at Meadow Park's prime location is just one of the reasons why it is anticipated to be a very sought-after neighborhood within the community. Brunswick Forest calls itself the fastest growing community for good reason. Its neighborhoods are well located offering the utmost in comfort and convenience to its resident while preserving a serene lifestyle.
Jerry Helms, Director of Sales for Brunswick Forest also attributes the area's popularity to the community as a whole. "It really is the product," he said. "It's our job to show people the Brunswick Forest lifestyle. Once they see what it's like to live here—which includes Wilmington and the surrounding community— it's up to them to decide if it's a good fit," said Helms.
Gauging by their track record, it usually is!
"We used to welcome a new family every other day," said Helms. "Now, on average, we are welcoming a new family every single day. In July of this year, we welcomed 40 new families to Brunswick Forest," said Helms.
Brunswick Forest amenities include a network of more than 100 miles of paved and unpaved walking and biking trails. In fact, the top amenities requested by people looking for homes in the Brunswick Forest area are walking trails and community parks.
When it comes to outdoor living amenities, Brunswick Forest stands alone among coastal North Carolina master planned communities in the Wilmington-area. No other community offers as many pedestrian friendly walking and biking trails and community parks as Brunswick Forest. Here's a brief description of a few of them:

MEADOW PARK is a beautiful combination of dog parks and parks for their two-legged companions. It is one of the many Brunswick Forest amenities that bring a smile to residents in the Brunswick Forest area.
Home to the annual Brunswick Forest Cardboard Boat Regatta, HAMMOCK LAKE PARK features a three-acre lake with a white sand beach. It also has walking trails that circle the lake, making it an ideal place for an afternoon picnic or an evening stroll.
WALDEN PARK is a three-acre piece of paradise perfect for reading a book or a picnic. Homes surrounding this park are both custom-built and models from builder portfolios that are unique in nature.
ANNSDALE PARK is located in the heart of Brunswick Forest. It is home to the Annual Summer Concert Series, bocce ball courts and horseshoe pits. Annsdale Park features a paved path that circles the park for walking and biking.
COMMUNITY COMMONS is a multi-use facility adjacent to the Brunswick Forest Fitness and Wellness Center. It's used for parties, both big and small, as well as social gatherings like bridge groups and book clubs. Community Commons features a glass-enclosed meeting room with a masonry fireplace and kitchen. The covered gazebo offers a picturesque venue for catching the perfect sunset.
Brunswick Forest amenities are seemingly endless. Buyers looking for new homes near Wilmington, North Carolina will enjoy touring a dozen or so model homes built by the area's top home builders.
Take a peek at Brunswick Forest homes.
Models at The Woodlands at Meadow Park in Wilmington North Carolina will be open for viewing during Brunswick Forest's Open House Day on September 20th from 10am to 3pm, however private tours are available now by appointment through the Brunswick Forest Welcome Center or by calling 888-371-2434. This is the community's third year hosting the event which typically has more than 50 homes and home sites available for touring along with direct access to builder representatives.
Save the date and make your way to one of the finest coastal North Carolina master-planned communities.
About Real Estate Scorecard:
Real Estate Scorecard writes unbiased real estate reviews providing in-depth information about popular gated communities in Florida, Georgia, North Carolina, South Carolina, and Tennessee, all in an effort to help people discover where to retire in the Southeast.
Website: http://realestatescorecard.com