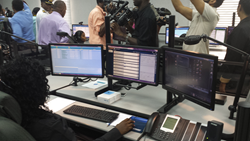 After many years of refinement, we have created the ultimate dispatch software. eFORCE CAD combines the advantages of a web-based application while providing the security and performance of a traditional solution. - Cory Bowers – CEO, eFORCE Software
Logan, UT (PRWEB) August 11, 2014
After an extensive two year evaluation process, eFORCE was selected to provide The Republic of Trinidad and Tobago with a state-of-the-art, multi-jurisdictional, web-based computer-aided dispatch system. Within a relatively short period of time, eFORCE successfully delivered a complete solution that is now live and operational. This solution includes integration with mapping, vehicle locators, E911, fire reporting, and police records.
About Trinidad and Tobago:
Serving a population of over 1.3 million, The Republic of Trinidad and Tobago, located on the southernmost islands in the Caribbean, provides emergency dispatching services for police and fire districts throughout the country. This includes 22 dispatch positions across two locations and 600 vehicles.
About eFORCE:
eFORCE is a tenured public safety software provider who offers flexible, state-of-the art, web-based solutions in a hosted or locally installed environment. Hundreds of customers enjoy the benefits of eFORCE's proven, leading edge technologies; they range from small hosted campus police departments to large state agencies and now, an entire country. For additional eFORCE information, visit http://www.eforcesoftware.com and join us on Facebook.