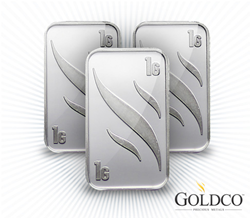 Gold an Silver IRA's provide exceptional protection from market volatility.
Woodland Hills, CA (PRWEB) August 09, 2014
Goldco Precious Metals CEO Trevor Gerszt stated, "We are making available these beautiful "three silver bar sets" to the first 999 AM870 listeners who visit the special website that Dennis Prager will announce on the air this week. These silver bars come in a gorgeous cloth bag. We are giving them away to commemorate Dennis's 33rd anniversary on the air. We are also making this exclusive offer to mark the initial minting of these unique 99.9% silver bars, thus the limited offer of 999 give always. These bars are likely to become a collector's item. The uncirculated bars, with a mirror-like finish, are simply beautiful."
In further support of the Goldco-Prager agreement, every Goldco customer who opens a new IRA in the next month will receive a free autographed copy of Dennis Prager's new book: Still the Best Hope: Why the World Still Needs American Values to Triumph. Prager has taken the title of his book from the legendary remark made by Abraham Lincoln in his 1862 address to Congress in which he referred to a free America as "the last best hope of earth."
Deeply rooted in the Judeo-Christian value system, Dennis Prager has spent his career explicating the complex issues of the day while celebrating the timeless wisdom of the past. Known as much for his interest in every day issues such as how to become a happier person as for his articulate political views, Prager is a unique radio presence. In addition to his radio work, constant TV appearances and extensive writing and lecturing, he recently founded Prager University, an Internet based educational institute with a unique feature — all the courses are five minutes long.
Prager's belief in the value of physical gold and silver as protection against the debasement of the dollar in one's portfolio is well known. As such, Gerszt welcomes the beginning of the relationship between Prager and Goldco Precious Metals, and very much looks forward to its continuation for years to come.
Of special note, Prager has scheduled a 12-minute interview with Gerszt at AM870 for release later this month. Prager notes that "...The good people at Goldco Precious Metals have an exceptional product that is unique and that takes advantage of precious metals like silver and gold to protect your IRA and other retirement vehicles from inevitable market plunges, dollar devaluation and other financial pressures. It was those and other pressures that destroyed so many people's finances in 2008 and are likely to happen again."
Contact:
Kevin Connor, Director of Marketing
kevin(dot)c(at)goldcopreciousmetals(dot)com
Goldco Direct
6320 Canoga Avenue, 15th floor
Woodland Hills, CA 91367
(818) 921-3136