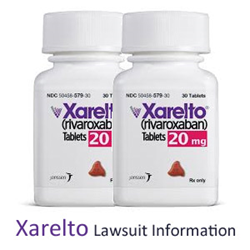 If you believe you have suffered internal bleeding due to Xarelto contact the attorneys at Wright & Schulte LLC For a Free legal consult buy calling 1-800-399-0795 or visit www.yourlegalhelp.com or call
Columbus, OH (PRWEB) August 09, 2014
Wright & Schulte LLC has launched a new Xarelto lawsuit page in response to the growing litigation involving the blood thinner. According to a Reuters report published June 14, 2014, Bayer AG and Janssen Pharmaceuticals are named as defendants in a handful of Xarelto lawsuits that have been filed in the U.S. Though Reuters did not report the details of the lawsuits, court documents in Pennsylvania indicate that at least one claim was filed in the Philadelphia Court of Common Pleas this past February, which alleges a Kentucky woman's hospitalization in 2013 was the result of Xarelto bleeding. (Case Number 140201754)
(reuters.com/article/2014/06/14/us-bayer-suit-idUSKBN0EP0HW20140614, June 14, 2014)
Most recently, a Florida woman filed a Xarelto lawsuit in U.S. District Court for the Southern District of Florida following the death of her husband. According to the June 23rd complaint, uncontrollable bleeding allegedly related to Xarelto resulted in his death from a subdural hematoma. (Case 0:14-cv-61448-JAL).
Wright & Schulte LLC is now offering free legal evaluations to anyone who may have suffered from life-threatening internal bleeding and related complications while using Xarelto, including:

Gastrointestinal Bleeding
Cerebral Hemorrhage
Heart Attack
Stroke
Blood Clots
Death
Xarelto is a new-generation blood thinner that was approved by the U.S. Food & Drug Administration (FDA) in 2011. Like any blood thinner, Xarelto can sometimes cause internal bleeding. But according to Xarelto lawsuits, there is no approved antidote to stop this type of internal hemorrhaging. The lawsuits also allege that Xarelto was wrongly marketed as an improvement over warfarin, a blood thinning drug that has been on the market for decades. The complaints point out that internal bleeding associated with warfarin can be stopped via the administration of vitamin K.
(fda.gov/safety/medwatch/safetyinformation/ucm367392.htm, FDA, March 2014)
In May, the Institute for Safe Medicine Practices (ISMP) reported that the FDA had received more than 680 Xarelto side effect reports during the previous 12 month period. During the same period, another blood thinner called Pradaxa was named in just over 520 reports. The ISMP noted that this was the first time Xarelto complications had outnumbered those involving Pradaxa. Like Xarelto, there is currently no antidote to stop Pradaxa bleeding.
(ismp.org/QuarterWatch/pdfs/2013Q1.pdf, ISMP, May 2014)
Wright & Schulte LLC is offering free, no-obligation Xarelto lawsuit reviews to anyone who allegedly suffered serious episodes of internal bleeding due to this blood thinner. To learn more, or to arrange for a free legal consultation with an attorney at Wright & Schulte LLC, please visit yourlegalhelp.com.
About Wright & Schulte LLC
Wright & Schulte LLC, an experienced personal injury firm, is dedicated to the belief that America's legal system should work for the people. Every day, the attorneys of Wright & Schulte LLC stand up for the rights of people who have been injured or wronged and fight tirelessly to ensure that even the world's most powerful corporations take responsibility for their actions. If you're looking for a law firm that will guarantee the aggressive and personal representation you deserve, please do not hesitate to contact Wright & Schulte LLC today. Free Xarelto lawsuit case evaluations are available through yourlegalhelp.com or by calling 1-800-399-0795.
Contact:
Wright & Schulte LLC
812 East National Road
Vandalia, Ohio 45377
1-800-399-0795
http://www.yourlegalhelp.com
Like us on Facebook
Follow us on Twitter
Join us on Google+