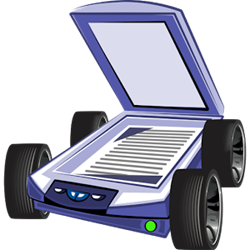 San Jose, CA (PRWEB) August 10, 2014
A recent marketing publication from the makers of the MDScan app extols its virtues now that it is optimized for Intel® Atom™ tablets for Android*. Now the app is accessible to an even larger base of telecommuters.
The marketing brochure illustrates the advantages of this productivity marvel that allows users to reproduce important paper documentation without the use of stationary desktop hardware. The application features border detection, perspective correction, brightness equalization and even a restoration option for damaged paper. A batch capture allows quick snaps of multi-page documents and conversion into either high-quality PDF or JPG files. These files can then be easily exported to any application that supports the image formats.
The publication notes that the implications for the average tablet user are many: less paper to store and manage, added versatility in archiving, reproducing and sharing as well as significant portability.
As an Intel® Software Partner, STOIK Soft had access to code, support and resources through the Intel® Developer Zone.
About STOIK Soft:
STOIK Soft is a private company dedicated to image/video processing software development. Young physicists and mathematicians founded the company in 1994. Company specialization takes its origin from image processing and data acquisition software projects made in a frame of the space program. Today the company is focused on development of commercial graphics software for consumer and professional markets.http://www.stoik.mobi
About the Intel Developer Zone
The Intel Developer Zone supports independent developers and software companies of all sizes and skill levels with technical communities, go-to-market resources and business opportunities. To learn more about becoming an Intel Software Partner, join the Intel Developer Zone. For more information, visit: https://software.intel.com/
Intel, the Intel logo and Intel Inside are trademarks of Intel Corporation in the U.S. and/or other countries.
*Other names and brands may be claimed as the property of others.
Copyright © 2014 Intel Corporation. All rights reserved.