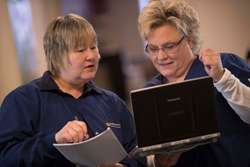 Susquehanna Health is taking proactive measures to do our utmost to ensure patient privacy and provide the highest level of care.
Williamsport, PA (PRWEB) August 08, 2014
As one of the nation's 20 Most Wired medical facilities, Susquehanna Health (SH) takes pride in technological strides while continuously working to protect the integrity of patient privacy. On August 4, SH implemented the FairWarning® Patient Privacy Monitoring Program as a method for detecting unauthorized use or inappropriate access of patient information.
The migration of many healthcare organizations from paper to electronic medical records offers convenience and continuity of care, yet it comes with the cost of due diligence in the protection of patient privacy. Across the nation, healthcare organizations, both large and small, regularly deal with the realities of data breaches, which place patients at greater risk for identity theft.
In March 2013, the U.S. Department of Health and Human Services enacted the final Omnibus Rule to increase privacy, security and enforcement measures under the Health Insurance Portability and Accountability Act (HIPAA), the Health Information Technology for Economic and Clinical Health Act (HITECH) and the Genetic Information Nondiscrimination Act (GINA). The Omnibus Rule strengths protections for patient privacy as well as the government's ability to enforce the law. Organizations were required to comply by September 23, 2013.
"FairWarning is a proactive system that monitors the access of our patients' personal and health information across Susquehanna Health's patient data systems," explained HIPAA/Privacy Officer Tara McKibben. "This monitoring system is programmed to automatically alert designated individuals about suspected inappropriate access of patient information, then prompts the privacy officer to conduct a thorough investigation of the suspected access."
Inappropriate access or unauthorized use can include instances such as when an individual accesses their own medical records or those of family members, co-workers or community figures. The FairWarning system assists designated leaders in upholding privacy program compliance by preventing protected health information (PHI) from being accessed for reasons outside legitimate business practices.
"Our patients' health information is extremely sensitive and they trust in our healthcare providers to protect that information," McKibben said. "Susquehanna Health is taking proactive measures to do our utmost to ensure patient privacy and provide the highest level of care."
For more information on Susquehanna Health's Privacy Practices, visit SusquehannaHealth.org.
About Susquehanna Health
Susquehanna Health is a four-hospital integrated health system including Divine Providence Hospital, Muncy Valley Hospital, Soldiers + Sailors Memorial Hospital and Williamsport Regional Medical Center located in North Central Pennsylvania. Serving patients from an 11-county region, Susquehanna Health is a healthcare leader and has been recognized at the national and state levels for quality of care. Susquehanna Health offers a wide array of services that include cancer care, heart and vascular care/heart surgery, neurosciences including neurosurgery, orthopedics, urology, OB/GYN, gastrointestinal services, behavioral health, physical rehabilitation, home care, long term care, assisted living and paramedic/ambulance services.