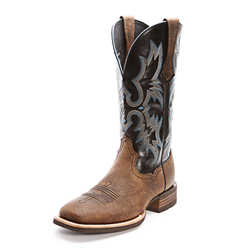 (PRWEB) August 12, 2014
From August 14 to September 15, 2014, PFI Western will be giving away a pair of Ariat boots every day through their "BootDaddy Boot a Day Giveaway with Ariat" contest. The company will choose a new winner each morning and then contact that person through email as well as announce the name on the company's website and media sites. Winners will be presented with the option of choosing a pair of men's, women's, or children's Ariat boots with a price value up to $200. Ariat boots are made with only the finest materials and the latest cowboy boot design technology, increasing their toughness, durability and comfortable feel. They can be used as work boots on a ranch, riding boots for casual outings or professional competition, or they can be worn as a fashion statement to complement any outfit. Winners can select their choice of boot in colors including red, turquoise, green, blue, brown or black; toe shapes such as round, pointed, or square; and boots that are ankle-length, calf-length or knee-length.
PFI Western is also offering cash mail-in rebates on any Ariat boot or apparel purchase to customers that include a $15 rebate for purchases between $99 and $148, a $25 rebate for purchases between $149 and $248, and a $40 rebate for purchases over $249. The purchases can be made in person or online and customers can take advantage of several Ariat boot styles which are currently on sale, as well as free shipping on purchases over $150 through the website. Shopping online is easy to do and customers can pay for purchases with their PayPal account, or with their Visa, MasterCard, Discover or American Express. Online customers also receive exclusive offers when they sign up on PFI Western's email list and can follow the company on Facebook, Twitter, Pinterest, Instagram or YouTube. To register for the "BootDaddy Boot a Day Giveaway with Ariat" contest, customers can visit PFI Western store or go to http://www.pfiwestern.com. Participants are allowed to go to the website or Facebook and enter once per day till the contest ends on September 15, 2014.
About PFI Western
PFI Western has been in operation since 1975. Originally a feed store for local ranchers and farmers, the company expanded into western wear and eventually the feed products were eliminated. Today, the company offers an inventory of 15,000 boot styles for men, women, and children that come in a range of leathers including bison, ostrich and cowhide; western clothing such as jeans, shirts, belts, handbags and vests; western riding equipment including saddles, breast collars, saddle bags, ropes and bits; and items for the home like mugs, wine and spirits, bedroom décor and specialty foods. PFI Western prides itself on listening to what customers want and then delivering a vast selection of choices to them. For more information on the products that PFI Western offers, go to http://www.pfiwestern.com.