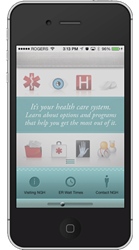 'We are very proud to have our mobile applications counted amongst the best mobile health care applications deployed in North America.'- Gail Johnson
Simcoe, Ontario (PRWEB) August 11, 2014
Norfolk General Hospital's iPhone & Android applications have been shortlisted for the Ragan Health Care and PR and Marketing Award. Ragan's award competitions are the most prestigious in the PR and corporate communications industry.
The applications, developed by Purple Forge, were released to actively share information about the services offered by the hospital with the community. Each clinical service provided by the hospital is highlighted with both video and text information, including reasons to visit, and what to expect upon admission to the hospital or clinic.
"We are very proud to have our mobile applications counted amongst the best mobile health care applications deployed in North America," said Gail Johnson, NGH Vice President of Patient Care. "This validates the direction we have taken in building mobile applications for better engaging the community to promote healthy living, lessening wait-times and helping to reduce the costs of providing health care to the community."
The application also supports push notifications, allowing the hospital to highlight the latest information, or provide further information in the event of a serious local health care emergency.
"With both active and passive communications capabilities, Norfolk General Hospital is positioned to provide the latest in health care information on the smartphones uses most frequently by the community," said Brian Hurley, President and CEO of Purple Forge. "This will serve as a benchmark for other communities seeking to provide mobile health care solutions."
About Purple Forge
Purple Forge sells subscription based services to organizations looking to engage their stakeholders using the latest mobile application technology and leveraging community engagement and social networking best practices. Purple Forge is an award-winning firm led by seasoned mobile communications and Internet technology veterans. Our mobile applications allow organizations to broadcast, share, and receive feedback from their target audience real-time, allowing them to foster long-term, engaged relationships.
Contact: John Craig, john.craig(at)purpleforge(dot)com
About Norfolk General Hospital
Norfolk General Hospital is a full service hospital conveniently located in the town of Simcoe, serving Norfolk County and surrounding area. NGH is home to health care professionals dedicated to excelling in their sphere and focused on the well-being of their patients and community. Norfolk General Hospital is one of the largest employers in the area, and is also recognized as having one of the highest rates of volunteerism in the Province.
Staff at Norfolk General Hospital provides patients with a diverse range of clinical services. Our Laboratory has been recognized as a leader in quality, performing some 200,000 tests annually. We have a highly recognized Diabetes Educational Program and an aggressive Infection Control Program. Information Technology at NGH is leading the way in electronic medical record keeping. The Operating Room is equipped with Minimally Invasive Surgical equipment. Some 5,500 procedures are performed annually in four theatres and our endoscopy suite. Norfolk residents have the benefit of reduced travel, faster diagnoses, earlier treatments and discharges with modernized equipment such as our 64-slice Computed Tomography (CT) Scanner and Digital Mammography unit.
Norfolk General Hospital Emergency Department reaches beyond a typical small-scale health care facility. Approximately 4,000 patients are admitted annually and some 30,000 attend our Emergency Department. NGH is also proud of its state of the art, six-bed Intensive Care Unit, fully equipped with the latest in cardiac equipment, PAC-MED, Medical Device Reprocessing Department.
Norfolk General Hospital is large enough to have advanced technology, but small enough so most of us know each other by name. We pride ourselves on patient and employee safety, support lifelong learning for professional and support staff, and continue to explore innovative ways to deliver compassionate and prompt care, to those we serve.
Contact: Gerry Hamill, ghamill(at)ngh(dot)on(dot)ca