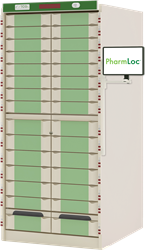 PharmLoc™ protects the pharmacy's valuable inventory by accounting for the use of each pill and anyone that touched the bottle.
Powers Lake, WI (PRWEB) August 11, 2014
Medication diversion is an issue that all pharmacies are attempting to manage more effectively. Every week, the press delivers stories of drug diversion and of the DEA and State Boards of Pharmacy increasing their oversight of control medications. Pharmacies are also struggling to account for medications with high street value. TCGRx announced today that it will be introducing its latest inventory management product, Pharmloc™, at the National Association of Chain Drug Stores' Total Store Expo (NACDS TSE) later this month. PharmLoc restricts access to at-risk-medications (ARMs) through the use of software-controlled locks and biometric authentication. All ARM transactions are tracked by user and quantity. Reports and real time alerts of discrepancies are provided with PharmLoc.
Duane Chudy, President of TCGRx, stated, "We focus our engineering efforts on new features for our customer base that have a high impact on their operations. PharmLoc protects the pharmacy's valuable inventory by accounting for the use of each pill and anyone that touched the bottle. Retail, Long-Term Care, Hospital, and Outpatient pharmacies will benefit from the control and security that PharmLoc provides."
PharmLoc can be a stand-alone system to store the pharmacy's ARMs securely or can seamlessly integrate with TCGRx's Beacon® inventory management solution to manage the pharmacy's entire inventory. PharmLoc can be configured to verify medication counts blindly or by verification of existing quantity and can be applied to every fill or done randomly throughout the day. Reporting tools create the audit trail for every transaction. "With the security and safety of PharmLoc, we believe that our customers can accurately account for all ARMs, reduce diversion, and save on inventory cost," stated Matt Noffsinger, SVP of Sales and Marketing for TCGRx.
About TCGRX
TCGRX is a leading supplier of pharmacy automation, offering scalable solutions that range from simple packaging technology to enterprise-wide perpetual inventory management. TCGRX solutions are specifically designed to make pharmacies and their processes more efficient. The company provides comprehensive workflow automation, including design and consultation services, to offer inpatient, outpatient and long-term care pharmacies a fully featured, integrated solution. With a strong presence in pharmacy markets throughout the U.S. and Canada, TCGRX is headquartered in Powers Lake, WI. For additional information, visit http://www.TCGRx.com, find us on Facebook, or contact us at 262.279.5307.