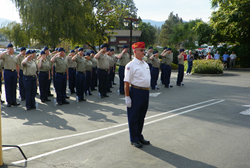 "In Normandy, my only news was a crystal set and earphones playing BBC news," says ninety-two-year-old WWI Veteran, Bill Bastian.
Oakhurst, CA (PRWEB) August 11, 2014
Sierra Tel is pleased to announce its Keynote Speaker for the 2014 Patriot Day Remembrance Event. Ninety-two-year-old WWII Veteran, Bill Bastian, studied engineering at UC Berkley before joining the US Army in the spring of 1942 when he was 20 years old and newly married. He served with the same Combat Engineer Battalion unit until the end of the war as a Company Commander, Assistant Operations Officer, Battalion Motor Officer and Battalion Liaison Officer.
After six months in England, Bill landed on Omaha Beach the afternoon of D-Day, June 6, 1944. Bill's next stop was Belgium for Christmas in front of the Bulge. He then flew back to the United States for reassignment, and arrived in San Francisco on the day the bomb was dropped on Japan. This event resulted in his two week leave being extended to transfer him from active duty to active reserve in 1945. Bill returned to Normandy as color commentator for a "Normandy Revisited Tour" in the 1990s, and has appeared on Ray Appleton's and Paul Loeffler's radio shows to share his wartime experiences.
The events of 9-11 were far different than his WWII experiences. "In Normandy, my only news was a crystal set and earphones playing BBC news. I happened to be watching TV and saw the second plane strike the World Trade Tower on 9-11 in real time, and here I was watching this almost unreal event happen in real time," Bill shared.
Sierra Tel invites the public to its annual Patriot Day event on Thursday, September 11, 2014, at its new location, the Oakhurst Community Park at 9:00am.
"We have moved this event from Sierra Tel Headquarters to the Oakhurst Community Park to make it truly a community wide event and to encourage additional participation," said Rima Runtzel, event coordinator.
The event is intended to recognize and show appreciation to all Veterans, Active Duty Military and Emergency Services Personnel for their dedication to our country and communities, as well as to honor the memory of those who lost their lives on September 11, 2001. Included in the event will be a special flag-raising ceremony and pledge of allegiance, patriotic music performances, 21 rifle salute and Taps. Veterans, Active Duty Military and Emergency Services Personnel will be presented with recognition gifts. Immediately following the event, the Sierra Tel Safety Awareness Committee will serve all-American apple pie and ice cream.
Each year following the events of September 11, 2001, Sierra Tel has made a visible statement of patriotism by affixing flags to each of its company vehicles. The flags are flown from Patriot Day through Veteran's Day.
For More Information Call: Rima Runtzel – 642-0313 RimaR(at)stcg(dot)net
###