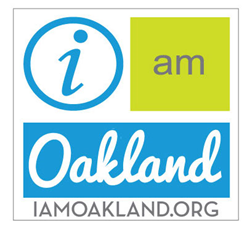 Oakland, California (PRWEB) August 12, 2014
Earlier today, Visit Oakland, together with the hospitality community and City officials gathered to celebrate the completion and graduation of the inaugural 'I am Oakland' class. The city's first official destination training program, 'I am Oakland' focuses on helping participants understand their vital role as destination ambassadors for Oakland as well as creating a complete visitor experience through improved destination knowledge.
"We're incredibly pleased to be part of the inaugural 'I am Oakland' class," said Lori Fogarty, Director and CEO of the Oakland Museum of California. "The Oakland Museum of California is a proud member of the Oakland community and we all look forward to serving as ambassadors to the many visitors who come here, introducing them to an amazing array of the best our city has to offer in arts, culture, food, and overall experiences."
The Oakland Museum of California partnered with Visit Oakland to host the inaugural 'I am Oakland' class, which began with a guided driving bus tour through Oakland's neighborhoods and concluded with a classroom session focused on creating memorable customer experiences for the city's over 2.5 million annual visitors. More than 150 of the museum's visitor-facing staff participated in the class and graduated with an official certification as destination ambassadors for Oakland. Oakland's Mayor Jean Quan was present to distribute training certificates to all the graduates.
The goal of the ' I am Oakland' program is to better equip Oakland's hospitality staff with the tools needed to present visitors with a unified and positive destination brand for Oakland, which is vital to the destination's economic development.
The graduation marks the beginning of the 'I am Oakland' program, which is now officially open to all frontline staff working in Oakland's hospitality industry. Future classes are planned and will take place on an ongoing basis for groups ranging from hotel staff to cab drivers and restaurant employees. For more information and future updates, go to: visitoakland.org/i-am-oakland.
CONTACT: Kim Bardakian
Director of PR & Partnerships, Visit Oakland
O: 510-208-0529
kim (at) visitoakland.org