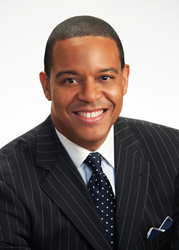 I was drawn to The Hallelujah Diet® because of its sincere commitment to help people from all walks of life to live a healthier, more vibrant lifestyle
Gastonia, North Carolina (PRWEB) August 11, 2014
For more than two decades, Chief Marketing Officer (CMO) Melvin Young Lewis has excelled in reinvigorating companies and re-engaging iconic brands with consumers. His experience includes all facets in marketing in both the private and non-profit sectors, including brand strategy, advertising, integrated marketing and communications, social media, e-commerce, digital strategy, sports marketing, multicultural marketing, direct marketing, sales, consumer research and operational leadership with many global, well-known and beloved companies, brands and advertising agencies, including Walt Disney Attractions Inc. (Disney/ESPN Wide World of Sports and Walt Disney Brands), United Way Worldwide Inc., Time Warner/TIME, Inc. (Time Magazine), Johnson Publishing Company (EBONY & JET Brands), J&J McNeil Consumer Products (Children's TYLENOL Brand), Frito Lay, Inc., and Quaker Oats. His agency experience includes senior management roles at Uniworld Group, Inc. and Gilbert Communications and managing agency relationships with McCann-Erickson Worldwide, Leo Burnett, Fallon Worldwide, Saatchi & Saatchi, Mendoza Dillon, Prime Access, Willoughby Design and The Ad Council.
So when Hallelujah Diet President and Chief Executive Officer Paul Malkmus need to tap someone with deep industry experience and expertise in a brand re-launch, he chose Melvin Young Lewis as Chief Marketing Officer. Throughout his career, Lewis has successfully built departments from the ground up, led organizations to pioneer new markets, and developed and repositioned brands: all focused on driving increased revenue while delivering consistent consumer experiences from awareness to adoption. "I was drawn to The Hallelujah Diet® because of its sincere commitment to help people from all walks of life to live a healthier, more vibrant lifestyle," said, Melvin Young Lewis, chief marketing officer of The Hallelujah Diet. "I am excited about the future and pleased with our accomplishments within a very short period of time with our new branding and business model. Working together with CEO Paul Malkmus and the team, we are encouraged about the many opportunities to introduce The Hallelujah Diet to new business partners and to expand our footprint both domestically and globally. The Hallelujah Diet System is a comprehensive program: offering premium organic plant-based supplements, education materials, books, delicious recipes, seminars and support programs for anyone interested in preventive healthcare and making dietary changes to improve their health. I am happy to be part of this brand renaissance that's at the forefront of healthy eating and helping Americans to make better health choices. I would encourage everyone to try The Hallelujah Diet; it's a lifestyle, not a fad."
The architect of The Hallelujah Diet brand, Lewis' primary goal is to increase sales and expand awareness of and demand for The Hallelujah Diet products, services and support – making it the leader in the plant-based industry. In his current CMO role, he leads the company's overall business planning, strategic marketing, advertising, branding, ecommerce, digital and social media, retail, new product development, integrated communications, affiliate marketing, partnerships, customer service and creative services for The Hallelujah Diet globally. Under his watch, the company has also introduced eight new supplements and seven new "chronic disease" get started kits.
During his distinguished career, Melvin Young Lewis held other Chief Marketing Officer roles, in addition to Chief of Communications & Digital Strategy and Vice President of Marketing posts at a wide range of Fortune 500 organizations. He has extensive experience within the advertising industry managing and building world-renowned brands such as Ford, Lincoln, Burger King and Home Depot. He also developed national consumer research, integrated communication plans and strategic frameworks for several leading organizations including Sephora, Shell Oil and MTV Networks and the Nickelodeon Franchise. His significant accomplishments have been recognized in numerous publications, including Brand Week, Ad Week, Philanthropy Journal, CNET.com, Multicultural Marketing News and Black Enterprise Magazine.
Melvin Young Lewis was awarded a full fellowship and earned his MBA from The Pennsylvania State University following a BBA in Marketing from the University of Houston, Main Campus. He is CORO Fellow, NYC's premier executive leadership training program, as well as a member of Alpha Phi Alpha Fraternity, Inc. He has also served on the boards of several civic and education organizations. He is a native of Houston/Galveston,Texas area and resides in Charlotte, NC.
About The Hallelujah Diet
The Hallelujah Diet®, the nation's premier plant-based diet and one of the country's leading nutraceutical organizations, has been in existence for more 20 years. Founded by Rev. George Malkmus and now led by Paul Malkmus, President and CEO, the Hallelujah Diet is headquartered in the Charlotte North Carolina area has an international office in Canada, with distributorships in Canada and Nigeria.
###