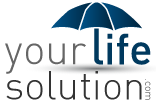 Chicago, IL (PRWEB) August 10, 2014
YourLifeSolution.com, a service which allows consumers to instantly compare life insurance products, is today naming three hazards that come with group term life insurance. According to the service, relying on group life insurance, such as that offered by an employer, generally leaves employees in a difficult situation upon retirement in regards to maintaining life insurance and that pitfalls can arise long before retirement as the insured does not actually own the life insurance on them. "Group term life insurance is simple to obtain, and the rates are generally good while an employee is young, but these plans should not be seen as a long term solution," said Eric Smith, the founder of YourLifeSolution.com.
YourLifeSolution.com's 3 Reasons Group Life Insurance Should not be Relied Upon:

The rates can change based on poor experience within an employer or organization's pool of insureds. "This means that unlike individual life insurance where clear guarantees are made, with group life insurance, rates can be changed later to compensate for less than favorable performance within a riskpool," said Eric Smith.
According to YourLifeSolution.com, the cost of maintaining group life insurance can often be higher for the employee than simply carrying their own coverage over the course of their career when premium increases are accounted for.
Most group term life insurance plans aren't portable and if the employer or organization ceases to offer the coverage, the coverage simply ends, which can leave many members of the group uninsurable or without access to affordable life insurance.
Consumers interested in viewing their own online life insurance rates are encouraged to do so at YourLifeSolution.com. Information can also be obtained by phone at 888.374.2764.