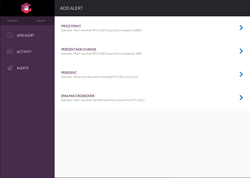 Coindera makes it easy to monitor Bitcoin and over one hundred cryptocurrencies.
Minneapolis, Minnesota (PRWEB) August 11, 2014
Coindera has launched a bitcoin alert and monitoring application with support for over one hundred cryptocurrencies. Users can get real-time alerts sent via email, SMS, and push notifications to their Android or IOS device. Anyone can sign up for a free account at http://www.coindera.com.
Coindera monitors the markets 24 hours a day for events such as price changes or increases in volume, and sends real-time notifications to users via email, SMS, or push notifications to IOS or Android devices. Customers can monitor over one hundred cryptocurrencies including Bitcoin, Litecoin and Dogecoin, as well as lesser known altcoins such as Darkcoin and Reddcoin.
"Most bitcoin alert tools are difficult to use and only offer basic capabilities. Coindera lets you create powerful alerts using criteria not available through less advanced bitcoin alert services — all through a beautifully designed user interface," said Adam Evers, Chief Executive Officer of Coindera.
Mainstream users can quickly create alerts based on price point and percentage change. Businesses and investors who depend of detailed information about market activity can create alerts based on advanced criteria such as trading volume and EMA/MA crossover.
For more information about Coindera, visit http://www.coindera.com.