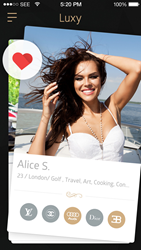 New York City (PRWEB) August 13, 2014
LUXY, the first social dating app created exclusively for attractive, successful men and women looking for a long-term relationship is the perfect alternative to the "anyone can join, hook-up mentality," common in most dating apps. LUXY now makes it possible for these successful singles to be safely matched up with other locals like themselves.
Along with targeting wealthy men and women looking for a serious, long–term relationship, LUXY has created a mobile dating experience with an eye towards luxury style, designed by a famous designer. Even the matching protocols have been devised so they specifically cater to successful, affluent singles with a great sense of style. Differences in personal taste and style can be a killer for a lot of relationships. In LUXY users start out by choosing their five favorite luxury style brands. That information is then used by the app's algorithm to help pick their most compatible matches. In fact, if they try the app and find that they don't recognize most of the luxury brands displayed on it, there's a good chance that they'd be better off on a more common dating app.
The CEO of LUXY , a successful Silicon Valley entrepreneur, created this app after his own negative experiences in the world of online and mobile dating. "I'm single and I've tried just about every major dating site and app out there. None of them catered to what I needed. They were filled with too many scammers and they all seemed more focused on pushing as many singles as possible in my direction. There was no real consideration for matching me with someone who matches my lifestyle. That's why I created LUXY , so that busy, successful people and celebrities could find each other without all the nonsense and games that make succeeding on all the other sites and apps so challenging. "
Because of its VIP clientele, which currently includes successful CEOs and celebrities as their members, LUXY has decided to focus on a having a smaller, more exclusive database instead of just trying to attract as many members as possible. Like any truly luxury service, LUXY knows that security and customer service are key, so they've created a rapid response team to assist members with any issues and to filter and eliminated any suspicious profiles immediately.
LUXY can be downloaded through iTunes at: https://itunes.apple.com/us/app/luxy-easiest-way-to-meet-real/id873518909?ls=1&mt=8
For additional information, please contact Eric at eric(at)courtlandbrooks(dot)com.