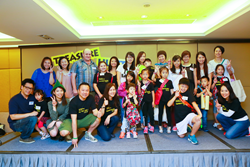 (PRWEB) August 12, 2014
Nine families with kids aged between three and nine were invited to join a fun-filled "Treasure Hunt - Family FUN" event organised by Cosmopolitan Hotel Hong Kong on July 20. This exciting and enlightening 'kids Amazing Race' event was held in line with the launch of the hotel's Beyond Thoughtful - Family & Us campaign. Through this event, parents and kids were able to experience the warm service of the hotel staff and a range of newly introduced family-friendly rooms and amenities specially designed for the kids first-hand.
Cosmopolitan Hotel Hong Kong is once again raising the bar in the family travel market in Hong Kong as it continues to innovate and upgrade its already extensive range of sensational family rooms and amenities. At this family hotel in Hong Kong, families can choose from a variety of family rooms, including Family Quad Room that features a plethora of toys and gadgets; award-winning Toy Suite designed to resemble a mini indoor playground and the popular Ocean Park Suite presented in accordance to the renowned theme park with all sorts of Ocean Park's plush toys and souvenirs, not to mention a host of kid-pleasing freebies from welcome gift to toy, sweet treats, bookmark and many more.
"Everything we do, we do it all for the kids. Their experience is what we hold dear to our hearts and we want the kids to go "Wowww, I love it!" with eyes sparkled with unbelievable joy every time they stay with us. Launching of this family-oriented campaign is to assure our guests that Cosmopolitan Hotel is the only place where parents and kids can truly experience a unique and exceptional family vacation," said Ms. Anita Chan, General Manager of Cosmopolitan Hotel Hong Kong.
"Experiencing is believing, and this was the reason we organised the treasure hunt game, inviting our guests, travel trade partners and staff to come together to witness these amazing new additions that are built on three core elements – fun, caring and educational," said Ms. Anita Chan.
This action-packed treasure hunt game was held in the hotel where all the kids are required to complete nine missions in the shortest time possible. During the game, they were introduced to all the nine new fun-inducing and educational in-room amenities such as measuring the correct distance to watch a movie, reading with parents, finding the hidden gem and many more. The champion of the hunt would win home a one-night stay at Cosmopolitan Hotel's newly renovated Toy Suite, scrumptious dinner for three at Grand Aquarium restaurant and an up-close and personal meeting with adorable dolphin at Ocean Park! Miss. Alicia Birtles and family from Australia won the Champion title by completing all nine missions in just 17 minutes.
Testimonial from Hotel Guests – Mr. Birtles and his daughter Alicia, from Australia
"Everyone made us feel incredibly welcome and special with their genuine hospitality. The new additions are also now very much child-oriented, toiletries for babies, kids amenities, mobile kids library, DVD, snack box on arrival, teddy bear as a gift. My personal feeling of Cosmopolitan's experience gets better every time we stay there, can't imagine next time as it will be hard to beat," said Mr. Birtles.
"I have had a lot of fun today and have been excited ever since I received the invite from the hotel. To win made me feel like a princess! Everything I received from the hotel was amazing and awesome," enthused the 9-year-old Miss Alicia after being crowned the Champion of the Treasure Hunt at the hotel's after-party.
Testimonial from Travel Trade Partners - "Home-away-from-home…Fun and Educational Stay" Quoted Expedia.com and Booking.com
Hotel's trade partners Booking.com and Expedia.com were among the families who joined the game. "It was a brilliant idea to spark interest in their new products among the families. My daughter and I enjoyed the game just as much as we enjoyed discovering their new amenities for the kids. Now my 4-year-old daughter keeps asking me when can she stay at Cosmopolitan Hotel again," said Ms. Jenny Wong, Expedia's Area Manager - Hong Kong, Macau & Taiwan.
"As a frequent traveller, I find a hotel that suits the need for all ages is always a challenge. Cosmopolitan Hotel definitely gives a home away from home when it comes to family needs," she added.
On the other hand, Mr. Calvert, the Area Manager – Hong Kong, Taiwan & Macau from Booking.com, was also one of the delighted families who was amazed with the out-of-the-box event organised by the hotel to let the families experience its new features in an engaging and meaningful way. "What Cosmopolitan Hotel offers to the family vacationers were very clever and thoughtful. My participation in their treasure hunt game had me convinced that an ordinary stay at a hotel can be so much fun and enlightening. It was truly a great experience for me and my family and I doubt there is parent or kid not tempted to stay here."
One Family Programme – Caring From Within and Beyond
This Treasure Hunt also welcomed employees to join as part of the hotel's ongoing internal One Family Programme, which aims to promote stronger family bonds. Among nine participating families, three were hotel's staff families and more than 30 staff volunteered to help out on that day to ensure the game was a smooth one. "Cosmopolitan Hotel is like one big family where everyone here cares for each other and works together harmoniously with synergy. Our cheerful and caring team is what makes families staying at Cosmopolitan Hotel feel special and loved," said Ms. Chan.
Cosmopolitan Hotel Family FUN-cation Specials Available Now For All Family Rooms
Cosmopolitan Hotel Hong Kong offers over three types of family rooms, which include Family Quad Rooms (32sq.m.), Ocean Park Suite (48sq.m) and Toy Suite (49sq.m). Guests who stay in any of these rooms will be able to enjoy a series of family-friendly amenities, known as Family FUN-cation Specials, such as premium body and skin care for kids, kid-size bathrobe and slippers, a mobile storybook library, PlayStation, Wii, special sweet treats, a welcome gift, free toys and educational bookmark and much more for free.
Reservations for family rooms with value-added features are now available. To enjoy all of the fun features, make a booking via the official website of the hotel at http://www.cosmopolitanhotel.com.hk/en/family-funcation.html.
About Cosmopolitan Hotel Hong Kong
The award-winning 4-star Cosmopolitan Hotel Hong Kong is situated amid Wan Chai and Causeway Bay on Hong Kong Island giving its guests convenient access to all business, shopping and sightseeing locations. The hotel is a mere 8 minute walk from the subway station / Times Square and a 10 minute drive from the Hong Kong Convention and Exhibition Centre. Cosmopolitan Hotel Hong Kong offers 8 types of rooms and suites ranging up to 48 sq. m. The signature Deluxe Course View Room offers a breathtaking view of the horse racing grounds and sport field in front of the hotel. Complimentary shuttle bus service is available to 15 destinations via five routes and all rooms are equipped with 200Mbps ultra high speed Wi-Fi Internet. Other facilities include the He Jiang restaurant that serves Huai-yeung cuisine, the 3T Bar, a gym room and various meeting spaces.
Cosmopolitan Hotel Hong Kong has been recognised by Michelin as being the most comfortable hotel for three years consecutively and is also the recipient of Certificate of Excellence for the years 2012 and 2013 by TripAdvisor. The recommendation accredits its outstanding service and soothing environment for global travellers. Cosmopolitan Hotel Hong Kong is owned and managed by Dorsett Hospitality International and is a valuable member of WorldHotels.