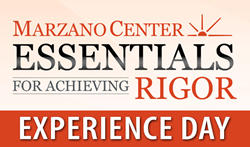 With the right guidance, students will ultimately become lifelong big thinkers who are fully prepared to succeed in the global workplace.
West Palm Beach, Florida (PRWEB) August 12, 2014
Learning Sciences International is offering full-day, hands-on workshops to provide educators with training on instructional strategies that move students toward more complex learning. Experience Day sessions will be held in various locations throughout the United States, starting on Tuesday, August 12 in Portland, Maine, to coach educators on meeting rigorous college and career readiness standards.
Experience Day is based on Marzano Center Essentials for Achieving Rigor, a nonevaluative model of instruction that draws from research highlighted in the white paper Teaching for Rigor: A Call for a Critical Instructional Shift. The Essentials model guides educators as they make critical instructional shifts that promote increased rigor and student autonomy.
"Throughout the nation, teachers are working hard to foster student growth," says Carla Moore, Director of Professional Development Services and Product Development at Learning Sciences International. "With the right guidance, students will ultimately become lifelong big thinkers who are fully prepared to succeed in the global workplace. We wholeheartedly look forward to bringing this Experience Day to teachers and schools. As educators lead students toward increased rigor, our goal is to help make the journey easier."
The workshops help educators build expertise in planning, developing, observing, and adapting instructional strategies that give students foundational knowledge, while guiding deeper thinking and, ultimately, facilitating complex learning. Participants are coached on interpreting standards, using taxonomy to identify students' levels of cognition, and creating rigorous learning goals and scales that reflect students' performance levels. They also learn how to use performance scales for formative purposes and design assessments to help students track their own progress.
A limited number of participants may attend each session. District administrators, principals, and educators who would like to host or attend an Experience Day workshop are encouraged to contact Carla Moore at 717.845.6300 x 211 or CMoore(at)learningsciences(dot)com for information.
Learning Sciences International, a leading provider of web-based and on-site solutions for professional development and performance management in education, supports schools and educational initiatives in 11 countries, 3 provinces in Canada, and 40 states in the United States of America. The company currently serves 427 school districts; 5,575 school buildings; 311,000 teachers; and more than 4 million students in the United States alone. For more information about the company, visit LearningSciences.com.