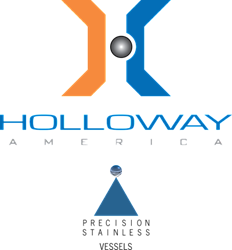 We're excited to discuss custom fabrication and pharmaceutical equipment at the ISPE San Diego's exhibit show. The organizers have truly outdone themselves this year.
Springfield, MO (PRWEB) August 12, 2014
The pressure vessel design and custom fabrication company HOLLOWAY AMERICA today announced it will have an exhibit at the ISPE San Diego Chapter 22nd Annual Exhibit Show: Life Science Resource Fair on Thursday, August 14, 2014 at Green Acre Campus Pointe in San Diego, Ca. The event offers pharmaceutical, biotechnology and life science professionals the opportunity to discuss the latest advancements in industry equipment with HOLLOWAY AMERICA representatives and other exhibitors, all of which are valued members of the ISPE (International Society for Pharmaceutical Engineering).
Organizers from the ISPE San Diego Chapter stated that they "have taken the generic hotel ballroom exhibit show completely out of its box" by scheduling the annual vendor night at Green Acre Campus Pointe's spacious outdoor patio and herb garden. Owned by celebrity chef Brian Malarkey, the venue offers organic, farm-fresh dishes that inspired the Pharm-to-Table theme for the event. The entire outing is offered at no cost to pharmaceutical and life science professionals, and much of the cuisine for the evening will feature ingredients grown on site. HOLLOWAY Vice President of Field Services David Lipsky applauded the ISPE's choice: "We're excited to discuss the finer points of custom fabrication and pharmaceutical equipment in such an inviting setting. We always look forward to ISPE San Diego's exhibit show, but they've truly outdone themselves this year."
Lipsky and his colleagues will be available to field questions about HOLLOWAY's pressure vessel design and built-to-spec fabrication capabilities. They will also be available to discuss YourSite™ Field Services, which are fabrication, retrofit, repair and modification services performed at the customer's site. "When it comes to customizing tanks for innovative pharma and biotech processes, our engineers and master craftsmen have decades of experience," said HOLLOWAY Director of Engineering Evelyn Gayer." They know first-hand what it takes to meet unique specifications and comply with the strictest regulations, all with the goal of surpassing the customer's expectations. We all try to obsess over every last detail, and each one of us takes personal pride in the fact that HOLLOWAY tanks will be used to help produce potentially life-changing medical breakthroughs."
Asked what people can expect when visiting with HOLLOWAY representatives, Director of Marketing Randy Colwell replied, "We always have great discussions with attendees at ISPE events, because we have plenty to talk about. HOLLOWAY crafts numerous products for life science applications—from our renowned reactor vessel solutions, including heating and cooling tanks with dimpled jackets, to our industry-standard spring-assist H-Series Manways. We also offer many other products and on-site services that can optimize a customer's processes to increase efficiency," he stated.
Event Details & Schedule
This year, the ISPE San Diego Chapter Life Science Resource Fair will take place on Thurs., Aug. 14 from 2 - 7 p.m. The event venue, Green Acre Campus Pointe, is located at 10300 Campus Point Dr. in San Diego. Attendance, parking and all events—including the "War Stories from the Plant: Successes and Lessons Learned" Facilities Panel—are free for pharmaceutical and life science industry personnel. Attendees will also be eligible to win various door prizes.
The schedule of events for the day is as follows:

Attendee Registration from 2 - 2:30 p.m.
Facilities Panel from 2:30 - 4 p.m.
Exhibit Show from 4 - 7 p.m.
For more information on the ISPE San Diego Chapter 22nd Annual Exhibit Show: Life Science Resource Fair or for details about the company's custom fabrication and pressure vessel design services, contact HOLLOWAY AMERICA at 417.863.0077 or by email at info(at)HollowayAmerica(dot)com.