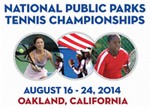 Oakland, CA (PRWEB) August 11, 2014
In less than a week the City of Oakland, in partnership with the United States Tennis Association (USTA), will host the 88th Annual National Public Parks Tennis Championships (NPPTC) taking place August 16 - 24, 2014.
NPPTC, the nation's most prestigious municipal tennis tournament, is held annually in the public parks of the host city for players of all levels of ability. Created, promoted and supported by the National Public Parks Tennis Association, the tournament is coming to Northern California for the first time in its 88-year history.
"We are honored to be selected as host city for this top-flight, family-friendly event," said Oakland Mayor Jean Quan. "Our rich sports history, beautiful landscape and happening cultural scene make Oakland an ideal destination for players and their families. We look forward to welcoming everyone to the sunny side of the Bay Area this month."
Competition during the 9-day event will take place at Davie Stadium, Mills College, Merritt College and College of Alameda.
The event-specific schedule for the tournament is:

NTRP — Men and Women's Singles, Doubles and Mixed (Aug. 16-18)
Junior — Boys and Girls, 12's-18's Singles and Doubles (Aug. 18-22)
Open — Singles, Doubles and Mixed (Aug. 21-24)
Senior — Men's and Women's Singles, Doubles and Mixed (Aug. 20-24)
Wheelchair — Men and Women Singles and Doubles, A and B divisions (Aug. 23-24)
Family — Father/Son, Father/Daughter, Mother/Daughter, Mother/Son (Aug. 23-24)
"This is a great chance for tennis lovers in the Bay Area to come out to one of the Oakland event sites and see some top-notch talent for free and cheer them on in their endeavor to take home a championship," said Steve Leube, executive director of USTA Northern California.
More details about locations and times of matches can be found at http://www.npptc2014.com during the event.
Events scheduled for tournament players and their families leading up to and during the event include:
August 15 - Opening Night Mixer
This is an opportunity for players to pick up registration materials, enjoy refreshments and size up the competition. There will also be a fast-serve machine for those who want to get in action.
August 18 – Junior Party at Davie Stadium
Junior players will enjoy a pizza party with a fast-serve machine on the Davie Stadium courts.
August 21 – Awards Dinner at Jack London Aquatic Center
Esteemed Stanford Tennis Coach, Dick Gould, will give the keynote address at the awards dinner while participants enjoy delicious food and the company of friends, old and new.
NPPTC participants also benefit from special concessions including $2 off the full price of general admission for the Oakland Museum and 500 free passes are available for the Oakland Ice Center.
Sponsors to date include: Oakland Parks & Recreation, National Public Parks Tennis Association, Port of Oakland, Friends of Oakland Parks & Recreation, Clif Bar (in-kind donation of bars), FoodsCo. (player registration bags), Dunlop (player key chains), PG&E, Oakland Ice Center, Oakland Museum of California, Oakland Marriott City Center, and Visit Oakland.
More information on the tournament schedule, registration information and venues can be found at http://www.npptc2014.com.
# # #
The United States Tennis Association (USTA) is the national governing body for the sport of tennis and the recognized leader in promoting and developing the sport's growth on every level in the United States, from local communities to the crown jewel of the professional game, the US Open.
USTA Northern California, headquartered in the San Francisco Bay Area, is the 4th largest section of the USTA. With 51,000 individual members, hundreds of organizational members, volunteers, and a professional staff, USTA NorCal is devoted to promoting and developing the growth of tennis as an inclusive and inviting lifetime activity in Northern California and Northwest Nevada.
For more information on USTA Northern California, log on to norcal.usta.com, "like" the official Facebook page, facebook.com/ustanorcal, or follow @ustanorcal on Twitter.