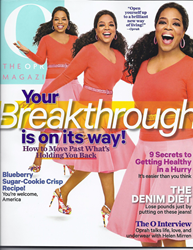 I love the very idea of breakthrough moments, breakthrough times in our lives.
Redwood City, CA (PRWEB) August 12, 2014
Oprah Winfrey's magazine, O, The Oprah Magazine, has highlighted Breakthrough Behavioral (Breakthrough) in the August 2014 issue. The magazine recognized the company as an innovative leader in online mental health care. Breakthrough offers access to mental health care providers, including psychiatrists and therapists, through their secure online live video counseling system.
Oprah says on the cover of her magazine, "Your Breakthrough is on its way," and highlights the benefits of web-based mental health therapy offered by the company. The overall theme of The Oprah Magazine is to inspire her readers to improve their lives with solutions that they may not have previously known about and the August 2014 edition focuses on personal breakthroughs.
The feature story about Breakthrough calls attention to its ability to reach individuals in need of therapy who have barriers preventing them from seeking care. According to the story, an alarming 59 percent of mentally ill Americans don't receive mental health treatment due to reasons including access, affordability and awareness. Furthermore, the stigma associated with receiving mental health therapy continues to be prevalent amongst all other variables.
Breakthrough hopes that the promotion of web-therapy by The Oprah Magazine will help raise awareness amongst a population often challenged with finding time to get care. For example, approximately 20 percent of expecting and new mothers will experience depression or anxiety, yet never receive the help they need according to Postpartum Support International. Additionally, the company sees demand for services from people who live in remote areas, are stay-at-home moms, or simply have too much to juggle between their personal and professional lives to make time for regular therapy sessions.
Breakthrough's CEO, Julian Cohen, remarks, "Due to the stigma associated with therapy and the growing need for accessible and affordable mental health therapy, we are greatly appreciative that The Oprah Magazine has presented Breakthrough as a viable solution to those that need it most."
In the magazine, Oprah Winfrey says, "I love the very idea of breakthrough moments, breakthrough times in our lives. I would have to say that the biggest breakthroughs for me have always happened when I was going through a difficult time and suddenly came across an 'aha' moment or an opening." Breakthrough hopes that their online video therapy service might just be that 'aha' moment for those seeking mental health therapy.
Even prior to The Oprah Magazine feature, online video therapy has been catching on. One of Breakthrough's contracted web-based therapists reports a 41 percent increase in online video therapy clients in the last year. Additionally, the company has seen a significant increase in provided services month-over-month during the past twelve months. Breakthrough is looking to continually expand its services into additional markets as it working to secure providers and health insurance contracts across the nation.
Headquartered in Redwood City, Breakthrough Behavorial is the leading telehealth provider of mental health care. Breakthrough contracts with insurance companies for Commercial and Medicaid populations to provide HIPAA compliant, online video counseling service to consumers. For more information please visit http://www.breakthrough.com. Also follow us on Facebook, Twitter and LinkedIn.
Providers can email network(at)breakthrough(dot)com and payers may contact sales(at)breakthrough(dot)com for partnership opportunities or to join Breakthrough.