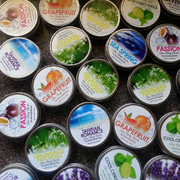 'The third annual Lightning Labels photo contest was full of exciting, exotic and unique entries, spanning a wide range of industries and sectors,' said Scott Proctor, Vice President of Sales at Lightning Labels.
Denver, CO (PRWEB) August 12, 2014
Every product manufacturer understands the importance of crafting attractive custom labels to make items stand out on store shelves and catch customers' eyes, but during the annual Lightning Labels photo competition, an appealing label can help win big prizes as well.
Winning Product Labels Range from Coffee to Soaps
Lightning Labels, a customer product label and sticker printing company, is proud to announce the finalists of the third annual photo competition. The winners come from a variety of industries, illustrating just how creative businesses can be with their label designs, despite many thinking there isn't much room to push the boundaries when promoting their goods.
The first-place prize, a Canon EOS Rebel T5i DSLR camera, goes to Sensational Soaps, whose Body Butter labels feature a colorful array of fruits, flowers and scenery. The second-place prize, a 40-inch flat-screen television, goes to La Dolce Diva Inc.'s Toodaloo toilet odor spray, which designed a minimalist, colorful product label. Olde Crone's Bewitching Bath Soap is the winner of the third-place prize, a Kindle Fire HBX. In fourth place comes Kao Jai Coffee, which takes home $500 in credit for future label printing projects. Finally, the fifth-place winner, Southern Girl Soapery, won $250 in credit for a striking red cosmetics label.
"The third annual Lightning Labels photo contest was full of exciting, exotic and unique entries, spanning a wide range of industries and sectors," said Scott Proctor, Vice President of Sales at Lightning Labels. "At the end of the day, it just goes to show that labels are more than just marketing pieces, they are works of art. We hope to continue seeing such great designs and usage of our custom label products among our clients in the future."
Custom Label Printing is Crucial for Package Design
As all of the contest entries illustrated, label printing is a necessity for brands that want to stand out on crowded store shelves. Product manufacturers should leverage the services of label printing companies, such as Lightning Labels, if they want to produce a label or sticker of the highest quality at an affordable price.
Companies using Lightning Labels should keep their design ideas in mind as they create their label, and maybe they can win a future Lightning Labels photo contest. They can head over to the Lightning Labels Facebook page to check out all the winners, along with labels from other companies that participated in the contest.
Right now Lightning Labels is offering 10% off label orders plus a chance to win $500 in labels using promo code THANKS14 at checkout. Valid on new and reorders. Maximum discount is $1000. Free ground shipping applies to orders placed online only and shipped within the US & Canada. Enter code at checkout. This offer cannot be combined with other offers or promotions. No purchase necessary. Visit Lightning Labels.com for details.
About Lightning Labels:
Lightning Labels uses state-of-the-art printing technology to provide affordable, full-color custom labels and custom stickers of all shapes and sizes. From small orders for individuals, to the bulk needs of big businesses, Lightning Labels is equipped to handle and fulfill custom label and sticker projects of all types. Best of all, like the name implies, Lightning Labels provides a quick turnaround for every customers' labeling needs. Uses for Lightning Labels' custom product labels and custom stickers include food packaging and organic food labels, wine and beverage labels, bath and body labels, and nutraceutical products, such as vitamins, essentials oils, and herbal remedies, as well as event stickers, adhesive window stickers and more. Lightning Labels strongly supports the development of environmentally friendly printing materials and carries EarthFirst PLA, a new kind of green label material made from corn instead of petroleum. While operating as a high-tech printer, Lighting Labels prides itself on its personalized customer service. Lightning Labels provides one stop shopping for all of your custom label needs. For more information and to place orders online, visit LightningLabels.com. For the latest in packaging news and labeling promotional offers, find Lightning Labels on Twitter (@LightningLabels), Facebook, Pinterest, Google and LinkedIn.