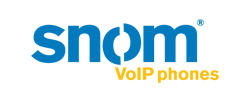 We are pleased to have our products certified by Teliax, and hope to continue our work with them in an effort to bring their reseller partners and customers the best possible VoIP experience.
Las Vegas (PRWEB) August 12, 2014
snom technology AG, a leading developer of IP desktop business phones, and Teliax, a provider of voice services and solutions, announced today at the ITEXPO West conference in Las Vegas that snom's 7xx series desktop phones are interoperable with Teliax's VoIP management solution. snom is exhibiting its entire product portfolio in Booth 424 at the show, taking place August 11-14 at the Rio Hotel.
snom's 710, 715, 720 and 760 endpoints have passed rigorous interoperability and integration testing by Teliax, qualifying these endpoints as preferred devices for operation with Teliax' IVY voice management and service platform.
The combination of snom endpoints with Teliax's IVY platform allows enterprise and Teliax reseller partners to efficiently configure, deploy and manage business premise-based IP PBX or hosted VoIP services.
"snom 7xx series phones were designed with an eye towards interoperability with any SIP-based environment," said Tom Ostrander, Director of North American Channel Sales at snom. "We are pleased to have our products certified by Teliax, and hope to continue our work with them in an effort to bring their reseller partners and customers the best possible VoIP experience."
snom's industry-leading 7xx desktop phones include:

snom 710: a general office phone for small or large scale deployments. It features four SIP identities (lines) and superior voice quality.
snom 715: the newest addition to the 7xx series, the 715 is suitable for all business scenarios and features Gigabit Ethernet, USB connectivity, wideband HD audio and four SIP lines at the lowest price point in the industry.
snom 720: an executive-level phone which supports 12 SIP lines and 18 programmable function keys for the ultimate in customization and flexibility.
snom 760: the consummate executive-level phone, it features a 3.5-inch color display to show presence status, caller ID, etc., two Gigabit Ethernet ports and two USB ports, as well as programmable keys.
"The entire snom line of IP telephones are very high quality and have a long history of reliability," said Kerry Garrison, VP of Retail Operations at Teliax. "Completing interoperability with the snom line ensures that our customers will have an excellent experience when using these devices, enabling them to use the IVY platform with even more ease."
The IVY platform is unique in that it is a reseller portal that allows a partner to sell both SIP trunks and hosted PBX features, all within a single system. A partner can provide a SIP trunk for larger customers that need an on-premise PBX. For smaller customers that may not need a complete PBX solution, the partner can sell hosted PBX features. This allows a partner to sell into both small and large companies while working with a single voice service provider.
snom will be showcasing its entire product portfolio at ITEXPO West in Booth 424. Teliax is in Booth 321.
To learn more about snom's channel activities in the Americas, go to http://www.snomchannel.com; follow us on Twitter; like us on Facebook; join our LinkedIn group; or add us on Google+.
About snom technology AG
Founded in 1996 in Berlin, Germany, snom technology AG is a pioneer in the development of high quality IP phones for both businesses and service providers. snom specializes in the design and manufacture of VoIP telephones and related equipment based on the Session Initiation Protocol (SIP) and is recognized for its high-quality, customizable and cost-effective products.
snom is also differentiated by its focus on security and privacy and is committed to delivering products that operate within EU privacy laws. snom's products are vendor independent and provide a long term ROI by enabling the use of a single handset with multi-vendor PBX services.
snom customers and partners benefit from the very high levels of interoperability and flexibility that snom telephones offer, including plug-and-play integration and universal compatibility with standards-based SIP VoIP platforms, applications or services.
snom technology AG is headquartered in Berlin, with offices in Italy, France, UK and the U.S. supported by a global network of channel partners operating across 65 countries. As a multinational company, snom provides localized support and training to ensure the highest levels of service for customers and partners.
About Teliax
Teliax's mission is to provide the highest quality voice service to our customers through our network of top-tier peering partners while providing exceptional value to our customers and reseller partners. Teliax's IVY platform enables partners to offer both trunking service and hosted PBX functionality along with an integrated invoicing and billing system. For other voice providers Teliax offers wholesale carrier services with unmatched service.
To learn more about Teliax, visit http://www.teliax.com, email: sales(at)teliax(dot)com or call 888-483-5429.