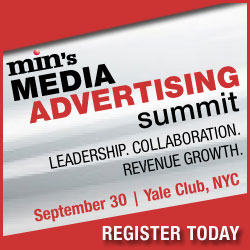 (PRWEB) August 12, 2014
Designed specifically for media and publishing executives, min's September 30 Media Advertising Summit will bring together all of the critical players in the world of advertising who have always excelled in buying and selling media and connecting brands to audiences. Held at New York's Yale Club, this one-day conference will provide attendees with practical knowledge to grow revenue, engagement, ROI and brand visibility.
Complete Information Regarding min's Media Advertising Summit
At this information-packed summit, attendees will be provided with examples of publisher-brand collaboration, learn what's on the minds of today's CMOs and hear extraordinary integrated marketing case studies. During this interactive summit, there will be discussions surrounding the new rules of advertising, media buying secrets, social media advertising trends, branded content strategies and native advertising.
Featured Speakers Include:

KEYNOTE: Kim Matlock, Senior Director, Digital Marketing and CRM, Hard Rock International
Chidi Achara, SVP/Global Creative Director, Simon Malls
Ekapat Chareonlarp, VP/President of Strategic Development & Head of Studio SIX, IDG Strategic Marketing Services
Kevin Dando, Senior Director, Digital Marketing & Communications, PBS
George Hammer, VP/Group Director, Strategy, Social & Content, DigitalLBI
George Janson, Managing Partner/Director of Print, GroupM
Laura Kane, VP, Corporate Communications, AFLAC, Inc.
Stacy Martinet, CMO, Mashable
Bree McKenney, Head of Brand Development, Glamour
Michael Monroe, Executive Director of Integrated Marketing, Forbes Media
John Nitti, President, Activation, Zenith
Sam Rosen, VP/Marketing, The Atlantic
Audrey Siegel, Managing Partner, Assembly
Robin Steinberg, EVP/Director of Publishing Investment & Activation, MediaVest
Jaqueline Stone, SVP/Marketing, Spanfeller Media Group
Brenda White, SVP/Publishing & Activation Director, Starcom USA
min's Media Advertising Summit sessions include:

Traditional Media's Wake-Up Call: You May Think You're Innovating, But You're Not
How to Drive ROI with Social
Creative Innovation Roundtable
Big Data or Big Ideas: Are They Mutually Exclusive?
New Insights Into Media Consumption and Consumer Decision Making
Is Technology Undercutting the Value of Media Brands?
Understanding the Mind of the Modern CMO
Online Video Trend You Need to Know
For more information regarding min's Media Advertising Summit and to register, visit http://www.minonline.com/advertisingsummit.
The day before, min will host a half-day SEO Workshop for media teams to learn the latest best practices and walk away with action items that can immediately be put to use to make content more competitive in the crowded digital ecosystem.
Contact min's Marly Zimmerman at mzimmerman(at)accessintel(dot)com or 301-354-1703 with any questions regarding min's September 30 Media Advertising Summit or min's September 29 SEO Workshop.
To learn about sponsorship opportunities, contact Tania Babiuk at tbabiuk(at)accessintel(dot)com or 203-899-8498. This summit is sponsored by Alliance for Audited Media.
min is the industry's trusted source on the consumer and b2b magazine business, reaching thousands of media executives through print, online and in-person events. For more than 60 years, min has been serving the magazine and media community with unparalleled coverage of this ever-changing industry. min also produces the industry's most timely advertising tracking via our Boxscores. We cover weekly and monthly magazine ad pages as well as a range of other metrics that track advertising success in print and digital formats. For more information, visit minonline.com.