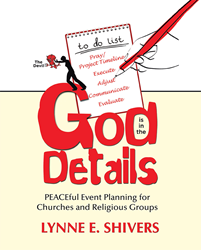 I wanted to...help churches and organizations plan their events with excellence.
Ann Arbor, MI (PRWEB) August 14, 2014
The stress of planning events can almost be enough to discourage even the most enthusiastic event planner. Author and experienced event planner Lynne Shivers understands the importance of the littlest details.
Designed specifically with church organizations and religious groups in mind, "God is in the Details" offers tips, guidance and valuable information for event planning. Featuring fresh ideas, helpful charts and thought-provoking reflections, this first of its kind guide is filled with the tools for each step of the planning process.
Author Lynne E. Shivers has more than 30 years of experience in planning events for religious organizations and academic institutions, and she continues to use her skills as the owner of PEACEful Events Planning Services.
"Over the course of my career, I have planned and orchestrated the smooth planning of hundreds of events," Shivers said. "I wanted to combine my experiences and knowledge to help churches and organizations plan their events with excellence."
For more information, please visit bookstore.westbowpress.com.
"God is in the Details: PEACEful Event Planning for Churches and Religious Groups"
By: Lynne E. Shivers
Paperback: $19.95
ISBN: 9781490824628
Available at bookstore.westbowpress.com, amazon.com and barnesandnoble.com.
About the author
Lynne Shivers is an author, speaker, licensed minister, and project and event manager.
She is the past president of the University of Michigan's University Event Planners organization and is a member of the Religious Conference Management Association and All Things Artistic Ministries, Inc. Christian Writers. She holds a bachelor's degree in psychology from Bowie State University and a master's degree in educational psychology from the University of Michigan. Shivers is married to Elder Jonathan Shivers, Jr., and they reside in Ypsilanti, Michigan.
# # #