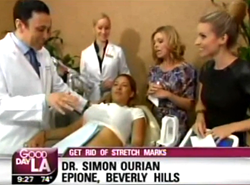 Los Angeles, CA (PRWEB) August 12, 2014
On August 8, 2014, the San Jose Mercury News reported in an article titled "Jennifer Aniston's Fiancé Bans Her From Botox," that Jennifer Aniston vowed to Yahoo! Beauty's Bobbi Brown that she would never undergo cosmetic surgery. Ms. Aniston stated that she is specifically opposed to Botox and dermal fillers "because I am not injecting (expletive) into my face." (see:goo.gl/uQyOI7)
Dr. Simon Ourian, Medical Director of Epione Beverly Hills, performed a laser stretch mark removal treatment on Kim Kardashian on the Feb 23, 2014 episode of Keeping up with the Kardashians.
"Everyone is entitled to their opinion about cosmetic surgery, and I certainly respect the right of Ms. Aniston to choose to abstain from any aesthetic treatments," says Dr. Ourian. "It appears that she is basing her choice on the bad results and mistakes suffered by other Hollywood stars, of which there are unfortunately far too many. The truth, however, is that many celebrities have benefited from some truly expert cosmetic work. By this I mean, these celebrities look better than before their procedures but they don't look 'done'. They look like younger, improved versions of themselves."
Ms. Aniston starred on NBC's Friends, as well as in the movies We're the Millers and Horrible Bosses. Ms. Aniston, a darling of the tabloids, is famously engaged to actor Justin Theroux. Mr. Theroux, according to the San Jose Mercury News, is vehemently opposed to plastic surgery for Ms. Aniston. "I also have a fiancé, who will put a gun to my head if I touch my face in any way," said Ms. Aniston.
Dr. Ourian has been a pioneer in laser technology and non-invasive aesthetic procedures including Restylane, Juvéderm, Radiesse, Sculptra, and CoolSculpting. These treatments are used for the correction or reversal of a variety of conditions such as acne, acne scars, skin discoloration, wrinkles, unwanted fat, stretch marks, varicose veins, cellulite, and others. More information about plastic surgery can be found on Epione's website.