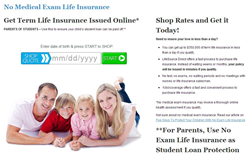 Student loan protection for parents is inexpensive and can be completed online within minutes
Boise, Idaho (PRWEB) August 14, 2014
LifeSource Direct, a leader in online insurance services, unveils the "student loan protection" term life insurance product for parents of college students. For parents who have co signed or are the guarantor of a student loan, this protects parents against student debt in the event of the death of a student.
Recent studies show a total of $1 trillion worth of outstanding student loan debt ( AP March 2014 ). Private loans are a cash cow for banks and other private lenders and have become readily available to each and every college student.
With the cost of college rising exponentially, student loans are almost a necessity to receiving a college degree. Chances are if you're a parent with a child in college, they've borrowed money to cover some, or all, of the costs of attending school. What many don't realize is that student loan debt is one of the only debts that is never forgiven, not even upon death of the student (Federal Student Aid, An Office of the US Department of Education, "Forgiveness, Cancellation, and Discharge").
This can mean disaster for parents of college students with outstanding debts, especially if they are a co-signer on the loan. Take Steve Mason and his wife for example. Their already tragic story was compounded in a horrible way when the collection letters and calls started rolling in.
Their 27-year-old daughter, Lisa, a college student and mother of 3, unexpectedly passed away due to unexpected liver failure. As if the death of their daughter wasn't enough, Steve and his wife soon started receiving bills from private student loan companies.
Not only did they now have the task of raising Lisa's 3 children, but they were also responsible for the repayment of her ever-increasing student loans. What started as a $100,000 balance quickly ballooned to $200,000 due to penalties, fees, and an interest rate close to 12%. See "Grieving parents hit with $200,000 in student loans" on CNN.
Their situation is not uncommon. Thousands of families suffer from similar situations each year. Steve and his wife weren't able to keep up with minimum payments and even considered filing for bankruptcy. Unfortunately, student loans are the only type of debt that generally can't be discharged through bankruptcy. They were literally stuck with the loans until they were paid off.
As a leader in online, direct issue insurance products, LifeSource Direct has announced the unveiling of their "Student Loan Protector" term life solution. With nothing more than a signature from their son or daughter, parents can get low-cost, non medical insurance on their students via a simple online process.
With benefits up to $350,000 and no need for medical exams, policies are issued immediately and without the hassle of meeting with an insurance salesperson.
Visit http://lifesourcedirect.com/no-medical-exam-insurance/ for more information.
About LifeSource Direct
LifeSource Direct (http://lifesourcedirect.com) was formed to create a dynamic, state of the art, direct sales life insurance company backed by an experienced and professional staff.
Incorporating the latest cutting edge technology with one of the best consumer support staffs in the industry assures a simple and easy process for purchasing life insurance. LifeSource Direct works with top rated insurance carriers including Prudential, SBLI, RBC, Banner Life, MetLife, Lincoln, Nacolah, Transamerica, ING and Genworth Financial.
LifeSource Direct now works with thousands of people every year to find them the right life insurance at the right price.