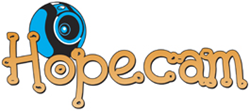 Reston, Virginia (PRWEB) August 13, 2014
In 2002, when entrepreneur Len Forkas learned his nine-year-old son had leukemia, his own life changed forever. In 2003, Len founded Hopecam, a nonprofit that uses technology to connect young cancer patients with their friends at school to combat social isolation. Hopecam helps children with cancer in 32 states, including 5 being treated at Colorado Children's Hospital in Aurora.
Turning to exercise to help cope with the stress of his son's illness, Len began competing in endurance races to raise awareness and resources to help Hopecam reach more children. In 2012, he qualified as a solo competitor in what is widely known as "the toughest bike race in the world." Race Across America is a 3,000-mile bike race from Oceanside, CA to Annapolis, MD, that must be completed in twelve days. Len finished in 11 days.
Len wrote a book about this experience, What Spins the Wheel, and will share his story at Full Cycle Bicycle Store this Thursday, August 14 at 7:30 p.m. Full Cycle is located at 1795 Pearl Street, Boulder, CO 80302.
Forkas is in Colorado to complete the last leg of the Leadman series, the 100 Miles Race in Leadville this Friday and Saturday. Forkas is dedicating his run to raise money to help more Colorado children with cancer. Last weekend, Forkas finished the 100 Mile Mountain Bike Race and a 10K Run. In July, he completed a marathon and 50 mile bike ride.
In What Spins the Wheel, Len shares an inspirational story while incorporating leadership lessons on building a team to accomplish not only the almost impossible physical feat in completing Race Across America but also winning his division. Len's experience underscores the importance of both an individual and a team's commitment to something bigger than themselves.
About Hopecam
Hopecam is a 501c3 charity with the mission of overcoming the social isolation—among the first side effects of treatment—of children with cancer. They give the children iPads, pay for Internet access if the family is without, then work with the school to persuade them to establish a regular Skype video chat connection with the child. All services are provided free to the families and schools thanks to the generosity of donors. For additional information about Hopecam, or to make a donation, contact: Executive Director Susan Koehler at 703.364.5606 or susan(at)hopecam(dot)org. Visit http://www.hopecam.org to learn more.