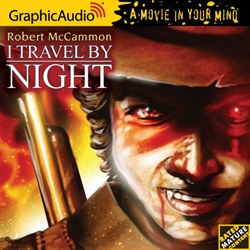 I'm very excited to have Graphic Audio producing a dramatic audio 'movie' of I TRAVEL BY NIGHT.
Bethesda, MD (PRWEB) August 14, 2014
GraphicAudio® is pleased to announce release of Robert McCammon's old West themed vampire-adventure I TRAVEL BY NIGHT. Available for digital download, this story combines GraphicAudio's trademark high-quality sound effects and music for an extra layer of emotional mood setting and excitement.
Director Nanette Savard says of working on the recording "Since I had directed Robert R. McCammon's THE WOLF'S HOUR and THE HUNTER FROM THE WOODS for GraphicAudio, I was excited to have the opportunity to direct I TRAVEL BY NIGHT. As with those books, McCammon masterfully combines the genres of horror and historical fiction, with fascinating characters and attention to period detail. Sound Designer Brian Rogers and I had a lot of fun bringing it all together. It's a wild ride!"
The cursed hero of I TRAVEL BY NIGHT is a man named, Lawson. As a soldier in the Civil War battle at Shiloh, he was forcibly given the gift of undeath by the mysterious vampire queen LaRouge. However, Lawson chose a different path for himself. Clinging to what remained of his humanity he fought his way free of the Dark Society's clutches. And in the decades since, he roamed late nineteenth-century America, doing what good he could as he traveled by night, combating evils mundane and supernatural, and always seeking the key to regaining a mortal life.
That key lies with his maker LaRouge and now, at the heart of a Louisiana swamp, Lawson hopes to find her with the aid of a haunted priest and an unexpected ally. In the tornado-wracked ghost town of Nocturne, Lawson must face down monstrous enemies, the rising sun, and his own nature. Readers will not want to miss this thrilling new dark novella from a master storyteller.
Author Robert McCammon says "I'm very excited to have GraphicAudio producing a dramatic audio 'movie' of I TRAVEL BY NIGHT. I say 'movie' because with the quality work GraphicAudio does, these books really do become movies for the mind. The stories come more fully to life and become more immediate due to the care and attention Graphic Audio gives to their projects. So...if you want to 'see' in your mind a story about a vampire/gunfighter in the old West struggling to stay human against all odds...here's I TRAVEL BY NIGHT!"
About the Author: Robert McCammon is the New York Times bestselling author of eighteen novels, as well as several novellas and short story collections. He is the winner of 5 Stoker Awards and a World Fantasy Award. He is best known for SWAN SONG (1987), THE WOLF'S HOUR (1989), and BOY'S LIFE (1991). More recently, McCammon has published THE FIVE, which Stephen King called his best novel ever, and is writing the Matthew Corbett series, a ten-book long series of historical thrillers that USA Network has called "the Early American James Bond." McCammon lives in Birmingham, Alabama.
About GraphicAudio®: An imprint of The Cutting Corporation, since 2004, GraphicAudio® has published approximately 900 titles and 60 different series in their GraphicAudio® A Movie in Your Mind® audiobook entertainment format. For more visit: http://www.graphicaudio.net.