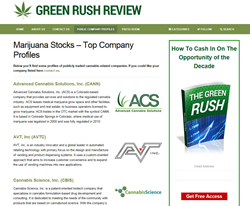 GreenRushReview.com aims to provide the public with extensive coverage of the emerging marijuana business sector.
San Franisco, CA (PRWEB) August 13, 2014
GreenRushReview.com, a website focused on the emerging marijuana business sector, recently added a "Public Company Profiles" section to their site at http://www.greenrushreview.com/company-profiles/ and a "Press Room" at http://www.greenrushreview.com/press-room/.
GreenRushReview.com is a fast growing website that contains information on cannabis industry companies, trends, developments, legislation and more. To make browsing the site more convenient for users, news items are also categorized and tagged.
The new public company profiles page contains a short profile of the various top publicly traded cannabis-related companies in the industry. By selecting a company's name a site visitor will be able to view a more detailed background, as well as the latest financial news on that particular company. GreenRushReview.com expects the company profiles section will continue to grow as this massive industry rolls forward.
The new press room features select press releases that GreenRushReview.com editors feel would be interesting to readers.
The term "Green Rush" refers to the new, rapid surge of activity brought about by the legalization of marijuana for medical purposes in more than 23 states, and the acceptance of comprehensive medical marijuana and cannabis programs.
Last year, Washington and Colorado allowed for the taxation and sale of marijuana, and also legalized use of the substance for recreational purposes. In the District of Columbia, marijuana possession in small amounts has been decriminalized, provided that smoking the substance is done within the four walls of the individual's home. To date, other states are currently working on their own versions of marijuana-related legislation.
Marijuana-related laws throughout the United States will continue to be rewritten over the next months and years, and investment and business opportunities multiply every single day. As legislation continues to develop, so does the marijuana market. Because of this, countless information sources have emerged both online and offline, releasing industry news on a daily basis. GreenRushReview.com combs through this abundance of information and selects only material that is high quality and significant to its readers.
GreenRushReview.com aims to provide the general public with extensive coverage on pertinent news, features, and opinions on the multi-billion dollar industry and culture in North America, and is strongly committed to be a reliable and convenient online resource for marijuana entrepreneurs and everyday consumers. It hopes to encourage readers to learn about the industry as much as they can so they can make smart, informed decisions.
The group behind GreenRushReview.com also owns a portfolio of cannabis related websites including bestmedicalmarijuanastocks.com (top medical marijuana company news), marijuanastocksreport.com (cannabis small cap stock news) & marijuanastock.net (general public medical marijuana company news).
Cannabis companies seeking to be profiled as well as people interested in becoming contributing writers to GreenRushReview.com (or any one of the websites) can contact editorial(at)greenrushreview(dot)com