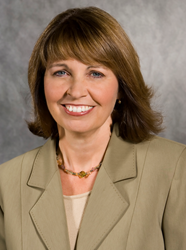 It is our privilege to honor one of the retail food industry's great leaders.
CHICAGO, IL (PRWEB) August 14, 2014
Janel S. Haugarth, executive vice president of Minneapolis-based Supervalu, has been selected as the recipient of the 2014 Trailblazer Award from the Network of Executive Women and Progressive Grocer magazine, the organizations announced today. Haugarth, president of the organization's independent business and supply chain services unit, will receive the award at the Top Women in Grocery gala Nov. 11, 2014, at the InterContinental Chicago O'Hare in Rosemont, Ill.
Established in 2012, the Trailblazer Award recognizes one food industry executive whose "leadership, vision and influence have had helped break new ground for women in the retail food industry." Lynn Marmer of The Kroger Co. was honored in 2012; Larree Renda of Safeway Inc. received the award last year.
"It is our privilege to join Progressive Grocer in honoring one of the industry's great female leaders, mentors and role models," said Joan Toth, CEO and president of the Network. "Janel has shared her wisdom at NEW events and been an outstanding industry leader. She continues to pay her success forward to the next generation of women executives."
As one of Supervalu's top female executives, Haugarth presides over the firm's independent business and business optimization efforts. Appointed to her current position in October 2012, Haugarth oversees the company's relationships with about 1,900 independent retail grocery stores across the United States. She is also responsible for identifying and executing strategies to make Supervalu a more streamlined, effective organization.
Haugarth has been with Supervalu for more than 35 years, taking on primary leadership roles beginning in 1985, when she was named controller for the company's Bismarck division. After having assumed a number of roles across the organization, Haugarth was named executive vice president of Supervalu's Northern region in 2000, at which time she became the company's first female region president. She was later named executive vice president and president and COO for Supervalu's Supply Chain Services organization in 2006, and in 2011 assumed the role of executive vice president of merchandising and logistics.
The two organizations described the past Top Woman in Grocery winner as a "staunch supporter of the Top Women awards program since its inception in 2006 and a longtime member and vigorous supporter of the Network of Executive Women."
Beyond her core leadership duties at Supervalu, Haugarth also serves on the boards of directors for Valspar, National Grocers Association, Food Marketing Institute's Wholesaler Advisory Board and IGA-USA, as well as serving as a member of the Minnesota Women's Economic Roundtable.
"In appreciation and recognition of her tireless efforts to advance women through the ranks at Supervalu, coupled with her commitment to advancing extraordinarily worthwhile causes on behalf of the company in countless local communities, we are pleased and very proud to honor Janel Haugarth as our 2014 Top Woman in Grocery Trailblazer," said Meg Major, Progressive Grocer's chief content editor.
PG's 2014 Top Women in Grocery awards program marks the eighth year the national trade publication, which recognizes the criticial contributions of women in the retail food industry in three categories: Senior-Level Executives, Rising Stars and Store Managers.
Additional details about PG's Top Women in Grocery gala event, including registration and program information, hotel accommodations and a complete list of current and past winners, can be found on the event's website.
ABOUT THE NETWORK
The Network of Executive Women is the largest women's leadership organization serving the retail and consumer goods industry, representing more than 8,000 executives, 750 companies, 100 partner companies and 20 regions in the United States and Canada. It hosts more than 100 events each year, including two national conferences. It's next major event is the NEW Leadership Summit 2014 in Atlanta, expected to draw more than 1,000 senior, mid-level and emerging leaders from throughout the industry. For more information on the Network's programs, events, research and best practices, visit newonline.org.