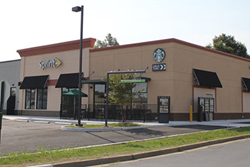 Richmond, Virginia (PRWEB) August 14, 2014
Timmons Group, a leader in multi-disciplined civil engineering and professional consulting services, announced that the progress of revitalizing Spring Rock Green Shopping Center, located in Chesterfield County, is progressing nicely. Spring Rock Green is located on the corner of Midlothian Turnpike and Chippenham Parkway, neighbors to the newly revamped Stonebridge Shopping Center.
Timmons Group collaborated closely with the developer, Bond Companies, to provide planning and development services for the revitalization project. Spring Rock Green has recently added several new retailers to their list of tenants such as Panera, Sprint, and Starbucks. Chipotle is also set to open by September 2014.
Damon Dance, Vice President of Development of Bond Companies stated, "We appreciate the knowledge and expertise that Timmons Group has brought to the redevelopment efforts of Spring Rock Green. This project has brought essential value to local businesses, job growth and economic development for those who live and work in the surrounding area. We are looking forward to continued growth for this area in coming years."
When complete, Spring Rock Green development will be a sustainable retail development with over 400,000 SF of retail and office space. The project's future plans involve two points of connectivity to Boulders Office Park, construction of multiple new retail buildings, high efficiency HVAC units, reduced energy demand and improved customer experience. Its design and future maintenance will have a lesser impact on the environment resulting in lower energy costs and a healthier workspace for tenants.
"We are very pleased with the expansion and revitalization efforts on Spring Rock Green. We have worked hand-in-hand with Bond Companies to ensure that the list of tenants mirror our revival efforts of the shopping center," said Junie West, Principal of Timmons Group. "This area is a thriving community and we are focused on continuing to revamp the business and shopping options for the thousands of citizens who travel throughout this area every day."
About Timmons Group
Timmons Group is a multi-disciplined engineering and technology firm recognized for nearly twenty years as one of Engineering News Record's (ENR) Top 500 Design Firms in the country. Timmons provides civil engineering, environmental, GIS/geospatial technology, landscape architecture and surveying services to a diverse client base. The Hampton Roads office is located in Virginia Beach with regional offices throughout Virginia and North Carolina. For more information, visit http://www.timmons.com.
Media contact:
Tim Klabunde
Director of Marketing
Tim.klabunde(at)timmons(dot)com