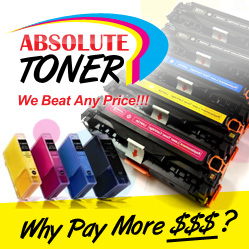 Many people do not realize that there are several different kinds of toner cartridges.
Toronto, Ontario (PRWEB) August 19, 2014
Absolute Toner is now going to offer the compatible for Canon 128 black laser toner cartridge. This toner cartridge is designed to work with the following Canon laser printers: Canon ImageCLASS D550, Canon ImageCLASS MF-4412, Canon ImageCLASS MF-4420N, Canon ImageCLASS MF-4450, Canon ImageCLASS MF-4500, Canon ImageCLASS MF-4550, Canon ImageCLASS MF-4550D, Canon ImageCLASS MF-4570, Canon ImageCLASS MF-4570DN, Canon ImageCLASS MF-4580DN, Canon ImageCLASS MF-4770N, Canon ImageCLASS MF-4880DW, Canon ImageCLASS MF-4890DW.
Information about this toner cartridge can be found at: http://www.absolutetoner.com/canon-toner-cartridges/911-canon-128-toner-cartridge-compatible.html.
"Many people do not realize that there are several different kinds of toner cartridges," says Chris Kovacs, a manager from Absolute Toner. The most common types are the original, re-manufactured and compatible cartridges.
"Original Equipment Manufacturer cartridges are thought to be the best to get while they're pros and cons to different products," remarked Chris when asked whether consumers should purchase original products. The cartridges are made by the manufacturer of the printer and are usually designed specifically for that printer. The quality is usually good, although the cartridges may not always last as long as people would expect. The cost of OEM is the biggest downside. It is usually the highest of any toner cartridges for a specific printer.
Re-manufactured toner cartridges use the OEM cartridges that are empty. The cartridges are then refurbished and refilled. The cartridges are then sold at a lower price than the OEM, but are more prone to breaking down because the parts are being reused.
Compatible cartridges are made by other companies than the original manufacturer. Chris also went on to say, "The biggest advantage with compatible cartridges offer to our customers is the extreme low price. With savings of over 50%." The reason that some people avoid using compatible cartridges is because the cartridges themselves are not always as reliable. Sometimes the cartridges fail to work at all, or more commonly, do not last as long as expected. In the worst case scenario, the cartridges could damage the printer heads.
Absolute Toner believes that the reason that some compatible cartridges don't work properly is because many of them are designed to work with numerous differ printers from different brands. The parts that are used may not fit the printer perfectly, and this can cause the toner cartridge to fail or to damage the printer. This compatible Canon 128 black laser toner cartridge is designed to work specifically with Brother laser printers. It promises a yield of 2,500 pages at 5% coverage. That helps improve the reliability. In fact, Absolute Toner is so confident in the ability of their toner cartridges to work that a lifetime guarantee is offered with each cartridge purchase.
Absolute Toner is an Ontario-based company. Absolute Toner has been providing both brand name and compatible printer cartridges for many years to both businesses and individuals. Cartridges are offered that are comparable or better in quality than the original equipment manufacturer's cartridges, but the cartridges are sold at a significant discount. Absolute Toner also offers free shipping in Canada for qualifying offers. For any additional information, find Absolute Toner online at http://www.absolutetoner.com.