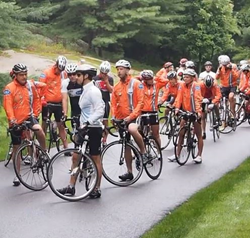 We offer hours of real look and feel indoor riding, on your bike of choice, no matter what the weather is doing outside.
Toronto, Ontario (PRWEB) August 19, 2014
VeloReality CEO Gary Bauer and CTO Kostya Poukhov were on hand to help celebrate the 2014 Annual Andy's Ride fundraiser in Port Carling Ontario. The event is popular with competitive riders from across Ontario and is put on annually by the Andy Potts Memorial Foundation. Held in honour of Andy Potts -- a local OPP constable who died in the line of duty in 2005, Andy's Ride raises funds for local area charitable organizations
At the event, Bauer and Poukhov announced the availability of 40 new High Definition videos of famous European cycling courses including Majorca, Grossglockner, the Romantic Road and Eikenberg. More than doubling the size of VeloReality's existing library to a total of 70 HD videos now offered, each HD video plays on any ANT+ indoor trainer including popular brands such as Wahoo KICKR and RacerMate Computrainer. The entire collection is available via shipping on a 1 Terabyte drive, and individual videos can be purchased and downloaded the company's web site http://www.veloreality.com.
Along with the Lynx VR Trainer, the new HD rides were demoed to participants at the Start/Finish area, with donations given over to the Andy's Ride organizers. Test riders mounted their own bikes into the LYNX VR Trainer and then chose the course they preferred. They were then able to ride their selected course -- feeling every minute rise and fall in the road, every tiny change in grade, while watching their progress in sharp real-time HD on a large LCD screen.
Riders said they were universally impressed with the HD videos as well as the Lynx VR Trainer – one of them enough to purchase the demo unit and the entire video collection on the spot.
In speaking Andy's ride personnel and competitive riders with Bauer and Poukhov also mentioned the formation of new partnerships with velo training clubs and internet racing groups who have purchased Lynx VR Trainers and VeloReality video libraries, and are currently integrating the "Ride Reality' system into their membership offering.
With the world's most advanced indoor trainer now selling well in Canada and internationally; and with the expanded 70 course video library now available for Lynx and other resistance trainers, Bauer anticipates an rise in demand as outdoor temperature begin to drop.
"Any time riders have to deal with inclement weather, indoor systems are the answer, but most are uncomfortable and unrealistic." Explained Bauer. "With our Lynx VR Trainer and the full HD library now available, we offer hours of real look and feel indoor riding, on your bike of choice, no matter what the weather is doing outside."For more information, or distributor inquiries, please contact:
Gary Bauer
1-888-480-1114 ext. 1
gary(at)veloreality(dot)com
VeloReality is the privately-held maker of the LYNX VR Trainer, a hyper-real system for the discerning cycling enthusiast or riding club. Built in Toronto, Canada, the LYNX VR Trainer comes with a limited warranty on electronics and a lifetime warranty on drive-train and software components. With a growing library of the world's most famous courses, the reality of the LYNX experience is matched only by the quality of its design, engineering and materials. Ride reality.