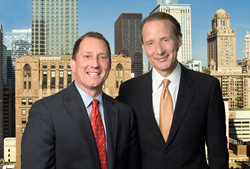 Chicago, IL (PRWEB) August 18, 2014
Patrick A. Salvi and Jeffrey J. Kroll of the Illinois plaintiff's personal injury firm of Salvi, Schostok & Pritchard P.C. have been selected by their peers for inclusion in the 21th Edition of The Best Lawyers in America© 2015.
Patrick Salvi was recognized in the fields of Medical Malpractice Law and Personal Injury Litigation. Mr. Salvi has been listed by Best Lawyers® since 2005. Mr. Salvi is the managing partner of Salvi, Schostok & Prichard and established his firm in 1982. Since then, Mr. Salvi and his firm have won more than $900 million on behalf of injured clients, including a recent $17 million medical malpractice settlement.
Jeffrey Kroll was recognized in the field of Personal Injury Litigation and has been selected by his peers to The Best Lawyers in America since 2011. Mr. Kroll is a partner at Salvi, Schostok & Pritchard and has over two decades of experience as a trial lawyer. Mr. Kroll has also lectured on more than 140 occasions throughout the country and has authored more than 75 published articles.
Since 1983, Best Lawyers has been regarded by both the legal profession and the public as the definitive guide to legal excellence in the United States. The 21st Edition of Best Lawyers in America includes more than 52,000 attorneys in 137 practice areas. Inclusion in this year's publication is based on more than 5.5 million detailed evaluations of lawyers by other lawyers.