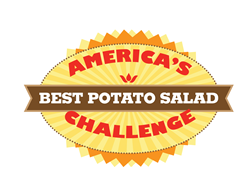 "We need America's help to select the top ten finalists!"
Beaverton, OR (PRWEB) August 16, 2014
Reser's third annual "America's Best Potato Salad Challenge" asked potato salad lovers to submit their favorite potato salad recipe. Creative cooks across the country answered the call and submitted hundreds of original recipes showcasing this terrific tuber.
"Our culinary team chopped, grilled, sautéed, boiled and fried hundreds of potatoes to recreate and evaluate this year's submissions. We narrowed it down to our twenty favorites but now we need America's help to select the top ten finalists," states Teresa Carter, category manager.
Voting Now Open
Potato salad fans are invited to go to http://www.resers.com/potatosaladcontest and vote for their favorite recipe. Voting closes August 30, 2014. The top ten recipe winners will each receive $750, plus a $1,000 travel stipend to compete at the World Food Championships where they will compete for the $5,000 grand prize. Contest updates will be posted on Facebook and Twitter. Contestant's scores will be weighted as follows: 75 percent based on Reser's judging panel and 25 percent based on the online voting portion of the contest.
Top 20 Potato Salad Recipes (In random order)
1. Jeanna's Potato Salad from Jeanna W. (MI)
2. Chipotle Roasted Potato Salad Crowned with Candied Chipotle Bacon from Nancy V. (CA)
3. Sweet And Spicy Potato Salad from Kelly T. (MN)
4. Roasted Sweet Potato Salad from Melanie M. (TN)
5. Whodat Crawfish & Andouille Tater Salad from Sherri W. (FL)
6. Dilly Cucumber And Red Potato Salad from Barbara H. (MO)
7. Garden Cilantro Potato Salad from Laurie L. (MA)
8. Sesame-Ginger Asian Persuasion from Darlene B. (AZ)
9. The Big Easy Muffuletta Potato Salad from Lauren W. (TX)
10. Roasted Korean Firecracker Potato Salad from Naylet L. (FL)
11. Slam Bam Thank you Ma'am Southern Grilled Sweet Potato Salad from Sean B. (NY)
12. Ellie Mae's German Potato Salad from Greg B. (AZ)
13. Oven Roasted Potato Salad with Fresh Herb Chimichurri & Shaved Manchego from Jennifer D. (CA)
14. All Fired Up Peppy Petite Red Potato Salad w/ Charred Corn & Roasted Red Pepper from Julie B. (IL)
15. Pan Seared Potato Salad Seville from Robin K. (FL)
16. Roasted Corn & Poblano Potato Salad with Creamy Salsa Verde Dressing from Merry G. (CA)
17. Roasted Potato Salad Mexicana from Linda M. (TX)
18. Zesty Potato Salad Monterey from Tiffany A. (AR)
19. Pineapple Bacon Potato Salad from Jan L. (OK)
20. New Mexico Style Potato Salad from Amy M. (CA)
Contest Prizes:

Top 10 winners will each receive $750 plus a $1,000 travel stipend to compete in the America's Best Potato Salad Championship in Las Vegas at the World Food Championships (Nov 12-18, 2014)
Top 4 winners will receive cash prizes ranging from $250-$2500
Grand prize winner will receive $5,000
Contest Timeline:
Apr. 15, 2014 Recipes can be submitted at http://www.AmericasBestPotatoSalad.com.
Jul. 16, 2014 Contest closes at midnight PST
Aug. 16, 2014 Top 20 recipes announced and online; voting opens at 8 am PST
Aug. 30, 2014 Voting closes as of midnight PST
Sept. 16, 2014 Reser's announces top 10 winners; each invited to compete in Las Vegas!
Nov. 12-18, 2014 The top 10 winners will compete at the America's Best Potato Salad Championship at the World Food Championships
Nov. 19, 2014 Re-cap of the championship event, winner's announced online
About the World Food Championships
The World Food Championships features nearly 500 competitors seeking food fame and fortune in Las Vegas. The third annual event will invite the champions from the biggest and best food competitions around the world into a single high stakes culinary showdown for hundreds of thousands of dollars. Following a tournament-style format across multiple iconic food categories, including burger, sandwich, barbecue and more, the WFC will culminate with a Final Table faceoff where category champions brave potential elimination in front of a live audience and a discerning panel of culinary celebrities. For more information visit: http://www.worldfoodchampionships.com.
About Reser's Fine Foods
North American-based Reser's is the leading provider of deli salads, fresh salads, side dishes and prepared foods. Reser's makes fun times easy and affordable for every family. Reser's famous deli salads are a family favorite at picnics, BBQs and tailgaters. Founded in 1950, the company remains privately owned and operated and committed to providing delicious refrigerated foods for the supermarket and food service industries. Reser's operates 16 facilities in the United States and Mexico and employs nearly 4,800 employees in the United States, Mexico and Canada. Visit http://www.resers.com.
###