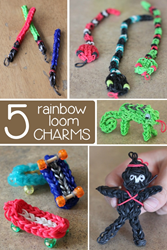 Create a loom ninja or chameleon this week.
Dallas, Texas (PRWEB) August 17, 2014
Rainbow loom charms are fun. Colorful rainbow loom charms and fun back to school coloring pages have been released on Kids Activities Blog. Turn colorful looms into more than just bracelets.
Charms are fun because one can use them as key chains, zipper pulls, or trade them with friends. Making fun charms is easy to do. One does not have to use a loom board.
There are a variety of charms. Lightsaber charms and skateboard charms are easy to do. Simply follow the instructions on Kids Activities Blog. Other ideas include colorful snake loom charms and ninja action figures.
A green chameleon will make the perfect charm for critter loving kids. The list is endless.
Back to school coloring pages are perfect for a quiet afternoon this month. The three pages feature a variety of school related themes.
The pages feature an adorable pencil and notepad. Anther design features a sleeping book and an smiling apple. The last page features a silly ruler and calculator.
Use anything but colors to fill in the design. Let the kids have fun using glitter glue, paper scraps, or let them stamp on the pages.
For detailed instructions and to get additional fun ideas, check out Kids Activities Blog this week. Come get inspired to have a blast together with the kids this month.
About Kids Activities Blog
Kids Activities Blog is a website created by two moms (who collectively have 9 children), Holly Homer and Rachel Miller. Their new book was published this spring by Page Street, 101 Kids Activities That Are the Bestest, Funnest Ever! Kids Activities Blog is an interactive website that publishes fun things to do with kids twice a day. It is an amazing resource for moms, dads, grandparents, caregivers and teachers to find kid-friendly activities that create memories and sneak learning into the fun.