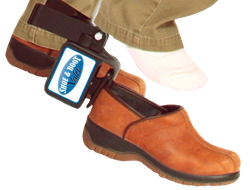 "More people, medical professionals, facilities and related medical industries are discovering our Shoe Boot Valet and its unique 'one of a kind' utility. The new demonstration video opens up a whole new dimension of interest"
Tulsa, OK (PRWEB) August 19, 2014
Obesity is one of the more serious medical problems facing the world today, especially in the more industrialized nations. Approximately 35% of Americans suffer from obesity which is not only a problem in itself but a mitigating factor in many other illnesses, such as: coronary heart disease (CHD), high blood pressure, type 2 diabetes, cancer, etc. It is considered the "plague of the 21st century".
The Shoe Boot Valet is the only device specifically designed for putting on and taking off footwear. Using the device requires no bending or reaching and you can use it standing or sitting. It has an attached patented bootjack that removes any shoe or boot with ease. More information and a demonstration video can be seen at Valet Product Line's website http://www.shoebootvalet.com/.
The Valet Product Line, also, just received their final patent on their new "Sock Valet". The Sock Valet will be the only sock donning device with a gripping mechanism that pulls the sock/compression hosiery over the foot, ankle and up the calf with no bending or reaching required. The Sock Valet will be available in early 2015.
The Valet Product Line is located in Tulsa, OK and manufactures unique assisted living devices for the millions of elderly, mobility challenged, rehab and dozens of other maladies that restrict bending and reaching. Our flagship product, the Shoe Boot Valet, is the only device with a gripping mechanism specifically designed to effectively assist in putting on and taking off footwear. The SBV, also, has an attached patented bootjack that removes any shoe or boot with ease. The newly patented "Sock Valet" will be out later this year and has a gripping mechanism that pulls socks and/or compression hosiery over the foot, ankle and up the calf with little to no bending or reaching required. To read more about these unique and desperately needed devices and see a demonstration video, go to http://www.shoebootvalet.com, phone (918) 493-9464 or email Trent at shoebootvalet.com