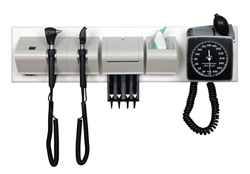 Louisville, KY (PRWEB) August 19, 2014
DRE Medical — a leading medical equipment company — recently expanded its line of medical diagnostics equipment to include the DRE WS350 Wall Mount Diagnostic System.
This new wall-mounted diagnostic set has all of the necessary devices to perform full examinations, at a greater value than many models currently on the market.
The DRE WS350 Wall Mount Diagnostic System's standard configuration features:

A coaxial ophthalmoscope with a long-lasting halogen lamp that consistently provides clear, bright white illumination
A fiber optic otoscope sealed for pneumatic otoscopy
An ear thermometer that features a preheated probe tip and sensor
A sphygmomanometer designed for Latex and mercury-free precision
A reusable ear specula with a smooth, autoclavable finish
The WS350 attaches easily to any wall with a large-size wooden plate mount. The set is available with one or two diagnostic handles.
The design of the DRE WS350 is perfect for speed and ease of use, and its top-notch instruments ensure accuracy. Its cords extend to 3 meters, and the specula tip dispenser is designed to fit all specifications of ear specula.
For more information about the new DRE WS350 Wall Mount Diagnostic System, visit dremed.com or call a sales representative at 1-866-929-3152.
About DRE
Since 1984, DRE has worked to be a single supplier for all major operating room equipment and surgical equipment. Inc. magazine named DRE, Inc., a leading surgical and medical equipment supplier, to its annual Inc. 5000 list of the nation's fastest growing companies for three consecutive years.