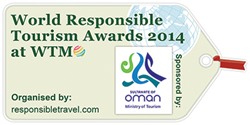 From kayaking at dawn to safaris by night, travellers can choose their favourite responsible tourism organisation from a special selection in a unique awards category decided entirely by public vote.
(PRWEB UK) 20 August 2014
The World Responsible Tourism Awards 2014, sponsored by the Sultanate of Oman Ministry of Tourism, are once again putting travelers in charge with the launch of the People's Choice for Responsible Tourism.
Everyone who votes will be entered into a competition to win a 10-day holiday for two to Oman.
From kayaking at dawn to safaris by night, travelers can choose their favourite responsible tourism organisation from a special selection in a unique awards category decided entirely by public vote. Everyone who votes will be entered into a competition to win 10-day holiday for two to Oman.
Now in it's second year, the People's Choice category, sponsored by Slovenia Tourist Board, is welcoming back 9 of last year's winners and highly commended organisations for travelers to choose from. Each one has submitted a special video to help the public decide.
"As Headline Sponsor in 2013, we were delighted to meet and celebrate with the winners at the Awards ceremony in London last year," said Alison Cryer, Director of Oman Ministry of Tourism, MBR office UK & Ireland. "This year, we are excited to welcome them back to be considered for the People's Choice for Responsible Tourism Award, and to hear them share the stories of their businesses once again."
Watch the videos and cast your vote before Monday 15 September by visiting http://www.worldresponsibletourismawards.com/peopleschoice
Read the full selection of organisations travelers can vote for below.
Chepu Adventures Ecolodge
Located on Chiloé Island in the South of Chile, Chepu Adventures Ecolodge specialise in offering kayaking excursions at dawn. Some people are often surprised to hear that, in Chile, water shortages can be a real problem. To achieve water sustainability, Chepu Adventures Ecolodge custom-designed many innovative water saving and management infrastructures, including a computer-generated information system, that informs clients in each lodge of their water consumption level in real-time.
The Great Projects
Working with organisations all over the world, The Great Projects offer volunteering experiences that aim to strike a balance between the most enjoyable holidays and the best in wildlife welfare. With the The Great Projects, travelers can volunteer responsibly with some of the most endangered animals, without compromising their care.
Mara Naboisho
The Maasai word 'Naboisho' means 'coming together' - and it couldn't be more appropriate for this conservancy. Recognised for an Award in 2013 as one of the best destinations for responsible tourism, Mara Naboisho Conservancy is dedicated to securing livelihoods for local people. Behind the hosting of memorable wildlife watching experiences, Mara Naboisho were the first conservancy to get a 15 year lease from landowners, where rent goes directly to owners' bank accounts.
Nam Nern Night Safari
How many safaris can you name that pay the local community for the wildlife you see? Recognised for their unique approach to responsible wildlife watching in last year's Awards, Nam Nern Night Safari work with 14 local communities in Laos to organise wildlife safaris with a difference. They give each animal a value, and encourage travelers to keep a record of the animals they see. The more wildlife seen, the more money is raised for the local community, reducing the poaching of endangered wildlife.
People and Places
It's not always easy to find the most responsible volunteering opportunities, which is why people and places stand out - demonstrating best practice and raising awareness of important tourism issues, so volunteers can sort the good from the bad. Recognised last year for responsible tourism campaigning, people and places were celebrated for their highly effective campaign to bring the issues surrounding irresponsible volunteering to the attention of would-be volunteers, voluntourism tour operators and the wider general public.
ReefCI
Operating out of Punta Gorda town, a small fishing community in Southern Belize, ReefCI have been mobilising travelers to help them in their marine conservation work. With traveller's help, they collect data which supports the protection and conservation of marine species, and helps promote sustainable fishing practices too. The judges awarded them for their excellent contribution to not only conservation, but the community of Punta Gorda as well.
Snowcarbon
Like to ski? Don't like the carbon intensive way of getting there? Snowcarbon has it covered. Recognised for an Award last year for their work in responsible tourism campaigning, Snowcarbon was set up to increase the sustainability of ski holidays by encouraging, enabling and inspiring skiers to travel to ski resorts by train instead of flying or driving. Their journey planner provides an easy way for skiers to book their train journey to the slopes, and they've also partnered with the Ski Club of Great Britain to promote rail travel to ski resorts.
TUI Nederland
Sometimes responsible tourism requires confronting difficult issues that others might not. Last year, travel organisation TUI Nederland was recognised for doing just that, when they were awarded for their courage and commitment to fighting child abuse in all its forms. Seeking to confront the silent growth of child sex tourism in Northeast Brazil, TUI Nederland partnered with child-centered organization Plan and other organisations in Brazil and the Netherlands to launch a campaign to say "a collective 'NO' to child sex tourism".
Village Ways
Some of the best responsible tourism experiences feel like you're part of the community. With Village Ways, that feeling comes with the bonus of having a real benefit on the local economy. Specialising in meaningful cultural experiences between travelers and rural communities in India, Village Ways were recognised for creating wealth in the poor villages that needed it most.
Notes to editors
About the Awards
For more information on the World Responsible Tourism Awards visit http://www.worldresponsibletourismawards.com
Now in their 11th year, the World Responsible Tourism Awards are headline sponsored by the Sultanate of Oman Ministry of Tourism, and were founded in 2004 to celebrate the most inspiring stories in responsible tourism.
The Awards are organised by responsibletravel.com and ICRT (International Center for Responsible Tourism). The Awards ceremony is hosted by World Travel Market during its dedicated World Responsible Tourism Day, which this year takes place on Wednesday 05 November.
The event has the support of prominent mainstream media partners such as Metro, as well as industry broadcasters such as TTG (Scandinavia, Middle East and North Africa), and Selling Long Haul.
This year, the Awards feature 11 categories covering a variety of topics, which reflect the hottest issues currently debated in the world or responsible and sustainable tourism.
About responsibletravel.com:
responsibletravel.com is the world's leading online travel agent for responsible holidays and a pioneer of responsible tourism. Started in 2001 with backing from Dame Anita Roddick of The Body Shop the site's mantra is 'travel like a local'. It sells holidays that are about more than just a brief stay somewhere - instead it is travel that offers a real connection with the people, the landscape, the culture, the food and the environment. It offers over 7,500 responsible holidays from over 3,000 holiday providers which all support communities and conservation. Handpicked local specialists provide authentic holidays for those seeking adventure, culture, or luxury whether traveling with family, joining a small group or looking for tailor-made experiences worldwide, in destinations as diverse as France - http://www.responsibletravel.com/holidays/france, Nepal - http://www.responsibletravel.com/holidays/nepal and Kenya - http://www.responsibletravel.com/holidays/kenya
In addition responsibletravel.com:

founded and organises The World Responsible Tourism Awards, celebrating 11 years at World Travel Market this year
campaigns for positive change in the travel and tourism industry.
is publishing an expanding collection of open, honest 2 minute travel guides
CEO Justin Francis has been included in Courvoisier's The Future 500, Thames and Hudson's 60 Innovators Shaping Our Creative Future and taken his place on the Advisory Board of The International Centre for Responsible Tourism.
The company is based in Brighton's North Laine district, England.
About the Sultanate of Oman:
The Sultanate of Oman's diverse landscape includes 3165 kilometres of pristine, sandy Indian ocean beaches, magnificent desert expanses, majestic fjords in Musandam in the far north, the striking Hajar Mountains, and the lush green valleys of Dhofar, in the south. Approximately the size of Germany Oman's diverse natural biodiversity will leave you breathless.
Whether you have a passion for adventure, culture or luxury Oman has something for everyone. From diving and sailing to dolphin and turtle spotting the adventure possibilities are endless. Home of frankincense, Oman's 6000 years of history includes four UNESCO World Heritage Sites, 500 forts and castles, and the modern day Sultan Qaboos Grand Mosque and Royal Opera House.
Oman air has a wide range of international flight connections to Oman's capital city Muscat including daily non - stop flights from London Heathrow arriving 7 hours later in Muscat with a wide range of connecting flights to Salalah and Musandam.
Oman is committed to developing tourism that supports its local communities and also promotes cultural integrity and the protection of the environment, historic and cultural heritage. For more information visit http://www.omantourism.gov.om
Contact:
Alexander Lyons
07842614731 (UK)
awards(at)responsibletravel(dot)com