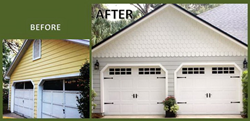 Fiber cement siding is a great alternative for those who want the look of wood, but not the cost or maintenance associated with it.
Orlando, FL (PRWEB) August 19, 2014
Choosing a resilient, quality siding is essential for the integrity of a home as well as exterior appeal. When it comes to selecting siding, it's important to remember that not all products are created equal.
"Vinyl siding is certainly a lot more durable than it's ever been. Vinyl – as opposed to wood siding – is the same color all the way through, and there are additives to make it fade-resistant. However, when it comes to strong wind, it's not a very reliable product. Back in the 2004 hurricane season, many vinyl siding homes had pieces of siding completely blown off. Wind certainly is an issue with vinyl siding, and, exposed to the elements in Florida, wood siding product is going to dry, crack, and deteriorate," says Jared Mellick of Universal Roof & Contracting.
Additionally, since vinyl is not tightly nailed to the home, it invites insects and moisture to build behind panels, potentially penetrating the structure of the home. Since vinyl siding is often installed over old, problematic existing siding, any current problems may continue to get worse.
In his recent article in Lake Mary Healthy Living Magazine, Jared Mellick emphasizes why fiber cement siding is superior to other options.
"Fiber cement siding is a great alternative for those who want the look of wood, but not the cost or maintenance associated with it. It is extremely durable and will help protect your home from rot, fire, wind, and insects. This revolutionary material employs weather and color technologies that provide solid protection and a surprisingly varied range of factory-applied colors and textures. Only slightly more expensive than vinyl siding, fiber cement siding is definitely worth considering for a long-lasting, cost-effective exterior makeover."
Universal Roof & Contracting uses James Hardie® products – inventors of fiber cement siding. James Hardie® offers a full line of siding products engineered specifically for the demands that Florida's climatic conditions place on a home's exterior. Due to its impact resistance against hail and windblown debris, fiber-cement siding has been specified by hurricane-zone building codes for building homes in hurricane-, tornado-, and wildfire-prone areas. Fiber cement siding resists rotting, warping, cracking, hail, and high winds up to 150 mph.
James Hardie fiber cement siding is enhanced with Color Plus – a baked-on finish that comes in a variety of colors and offers maximum durability and resistance to climate and moisture contact. Moreover, this revolutionary finish lasts up to 2x's longer than field-applied paint and comes with a 15-year warranty.
When compared to fiber cement siding, vinyl siding and wood siding cracks, fades, leaks, is susceptible to warping from heat, and consequently, lacks the durability necessary to withstand Florida's variable climate.
About Universal Roof & Contracting:
Jared Mellick and his father, Ken Mellick are the owners of Central Florida's premier construction company, Universal Roof & Contracting, a family-run business which has been serving homeowners in the Greater Orlando area for more than 20 years. Universal Roof & Contracting services include free roof inspections, free no-obligation roof estimates, roof repair, roof replacement, new roof, exterior siding, windows, and home improvement, including kitchen and bath remodeling. Jared and Ken also host a local radio home improvement and construction talk show on popular Orlando talk radio station WDBO (FM 96.5) and WOKV (FM 104.5) in Jacksonville called "In the House with Ken & Jared."