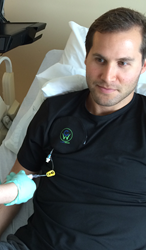 NEW YORK, NY (PRWEB) August 19, 2014
In less than two weeks, CureWear, a lifestyle apparel company designed to make life more comfortable for cancer patients, has exceeded its initial funding goal and experienced overwhelming support from prominent voices in the cancer community. On August 4, entrepreneur and Stage IV Gastric Cancer survivor Alex Niles brought CureWear to Kickstarter for pre-order.
CureWear was created by Alex, who was diagnosed with Stage IV Gastric Cancer in the fall of 2013 at the age of 30. As part of his treatment, a medical port was surgically implanted into Alex's chest. To give nurses access to his medical port, Alex would remove his shirt just before receiving treatment. Alex found that like him other patients, particularly women and elderly patients, found it uncomfortable to remove their shirts during treatment. Alex decided to cut a small hole in a shirt, and create a patch that would allow nurses access to his port, while not requiring him to remove his shirt for treatment. From there, CureWear was born.
"Reaching our initial goal so quickly just goes to show the power of what can happen when people come together for an important cause," said Alex about surpassing his initial $30,000 goal in less under two weeks. "We plan to keep the momentum going so we can help as many people as possible feel comfortable during such a challenging time in their lives. I can't wait to see where we end up, but knowing that so many people believe in CureWear proves that nobody is alone going through their fight with cancer."
Alex consulted with his own medical team of doctors and nurses to develop the CureWear shirt for patients. The shirt is made from a comfortable Dry Sport fabric, and features a velcro port accessibility patch that easily allows nurses the space they need to deliver treatment via the medical port. When closed, the port accessibility patch also allows room for medical lines. The shirt is poised to revolutionize the way cancer patients feel when they receive treatment.
"My nurses and doctors were so excited to see how easily CureWear enabled them to do their jobs, while keeping their patients focused on resting and healing," said Alex.
Backers of the CureWear Kickstarter campaign at the $100 level have the option to select a shirt with or without a port-patch, as the initial line of CureWear apparel is comprised of shirts for patients and supporters.
The CureWear campaign runs until October 1. After it concludes, manufacturing will start immediately. CureWear already has plans to expand the line of supporter wear to include long-sleeved apparel for the fall/winter season, athletic pants, and more.
To read more about CureWear and to back the project, visit http://kck.st/1o6yPBG.
Follow CureWear on Facebook, Instagram and Twitter for updates about the product, and daily quotes curated by the CureWear team to inspire followers.
# # #
ABOUT ALEX NILES:
Alex Niles is the creator and founder of CureWear. An entrepreneur with a background in investment banking, Alex was inspired to create CureWear after his own Stage IV Gastric Cancer diagnosis in the fall of 2013. As part of his treatment, a medical port was surgically implanted into Alex's chest to administer chemotherapy drugs. Rather than remove his shirt for treatment, Alex cut a small hole into one of his favorite athletic shirts to give nurses access to his port. From there, the idea for CureWear was born.
Alex is a graduate of Drexel University, where he was a 4-year Division 1 scholarship athlete on the men's soccer team, and earned a graduate degree from Fordham University. He writes about his Cancer experience on his blog, SmilesForNiles.com, and is a regular contributor to The New York Times, Huffington Post, and Psychology Today. Alex is based in New York City, but loves to travel. He is passionate about sports, eating and cooking, health and business, and is a Cancer battler and dedicated advocate.
MEDIA CONTACT:
For more information, please contact info(at)mycurewear(dot)com.