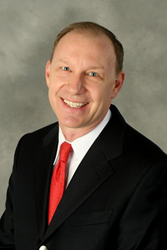 Falls Church, VA (PRWEB) August 18, 2014
In preparation of back to school, Dr. William Dougherty invites patients in Falls Church, VA to get fitted for custom sports mouth guards. As athletic participation among children in the United States continues to rise, so does the need for protective gear. Custom-fitted mouth guards often serve as the first line of defense for protecting athletic participants from physical trauma.
There are three general mouth guard options available. Stock mouth guards come already formed and ready wear. While they are the least expensive, stock mouth guards tend to be bulky and ill-fitting, which can make breathing and talking difficult. Boil and bite guards are softened in boiling water and then inserted into the mouth to form the shape of the wearer's teeth, so they sometimes provide a better fit than stock mouth guards. Custom-fitted mouth guards, while more costly than the other two options, offer superior fit and protection from physical trauma.
Proper fit is particularly critical for athletic participants who wear braces or have fixed bridge work. Face contact, even a single blow, can result in damaged orthodontic appliances requiring painful and expensive repair work. While a custom-fitted sports mouth guard may be more costly initially, Dr. Dougherty urges patients to take into account worst case scenarios. In contrast with the thousands of dollars and hours spent in a dental chair, a custom-fitted mouth guard is well worth the investment.
The mouth guards Dr. Dougherty creates for patients are typically fashioned out of acrylic materials and contain soft inner layers as well as hard outer layers to provide maximum protection and comfort for the wearer. If a patient is allergic to acrylic, other materials can sometimes be substituted.
To learn more about custom sports mouth guards at Dougherty DDS, call (703) 532-3300 to schedule a consultation or visit http://www.doughertydds.com.
About the Doctor
William V. Dougherty, III, DDS is a general dentist offering patients personalized dental care in Falls Church, VA. He is part of one percent of dental professionals providing the LANAP® FDA cleared laser procedure for gum disease and periodontal treatment. To learn more about William V. Dougherty, III, DDS and his dental services visit his website at http://www.doughertylaserdentistry.com and call (703) 584-7554.