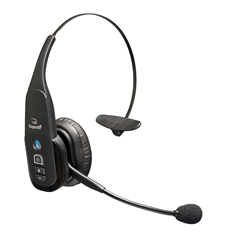 'Truckers know and love BlueParrott headsets,' said Mike Ferguson, president and CEO of VXi. 'They know there's no other choice out there that lets them hear and be heard, clearly, no matter how noisy it gets.'
Dover, NH (PRWEB) August 18, 2014
VXi Corporation (http://www.vxicorp.com) announced today that they will debut the all-new B350-XT, the newest addition to their extraordinarily popular VXi BlueParrott line of Bluetooth headsets, at the Great American Trucking Show in Dallas, Texas, this August 21-23. Attendees can visit VXi's booth (#13050) to enter to win their very own B350-XT before it's available to the general public.
More features and flexibility. The B350-XT follows in the leadership tradition of VXi's highly regarded B250 series, adding advanced new features including Near-Field Communication (NFC) for fast and simple one-touch pairing, and low-energy Bluetooth 4.0, which conserves battery life. But the B350-XT's standout feature is its programmable Parrott Button, which users can set to their choice of several functions, including mute, speed dial and control of a second phone.
The BlueParrott legacy. VXi BlueParrott has long been the Bluetooth headset leader for truckers and other mobile professionals—thanks to its unmatched combination of industry-leading noise canceling (proven by independent, third-party testing) and clear, natural sound quality. This headset also delivers all-day comfort, roadworthy durability and ample talk time per charge—more than 24 hours, in the case of the new B350-XT. Plus you can stream music or GPS directions from your smartphone, and connect to two devices at once.
"Truckers know and love BlueParrott headsets," said Mike Ferguson, president and CEO of VXi. "They know there's no other choice out there that lets them hear and be heard, clearly, no matter how noisy it gets. So they're going to go for the B350-XT in a big way, because it gives them an even more compact design."
VXi will be giving away B350-XT headsets every day at GATS. To enter, attendees should visit Booth #13050.
About VXi Corporation:
VXi provides the best-performing headsets, telecommunications and speech recognition solutions for the benefit of mobile professionals, small and large businesses, and contact centers around the world. From Bluetooth® to Unified Communications, we've got you covered. We meet the highest global standards for product quality and service, and back you with the industry's best warranties. We design, market, sell and support our products from Dover, New Hampshire, and pride ourselves on delivering value, excellence and innovation. That is why VXi is The Sound Choice™. See for yourself at http://www.vxicorp.com. Connect with VXi on Facebook, LinkedIn, or Twitter.
About Great American Trucking Show (GATS):
The GATS is a trucking convention with over 500,000 feet of exhibit space that happens in Dallas in August each year. It draws in fleets, drivers and suppliers from across the country and offers exhibits, education, networking and fun! Some of its exciting events include: Overdrive's Pride and Polish Truck Beauty Competition, Educational sponsored by TXTA, the Commercial Vehicle Outlook Conference, exhibits from leaders in the heavy duty trucking industry and much more. For more information, visit http://www.gatsonline.com.