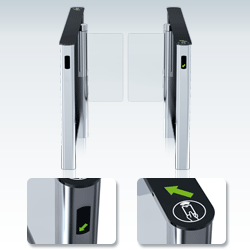 ST-01 will be introduced at Intersec-2015 international exhibition in Dubai.
(PRWEB) August 21, 2014
PERCo company is going to start production of its new model – ST-01 speed gate. It is a speed gate with swing-type tempered glass panels designed with regards to exclusive requirements for elegant design and walk-through convenience.
ST-01 speed gate will be introduced at Intersec-2015 international exhibition in Dubai.
PERCo company, established in 1988, develops and manufactures access control systems and equipment for more than 25 years. During this time, the company became the leader of Russian security market. The company occupies 80% of turnstile production market and 40% access control systems market.
PERCo products are well-known worldwide. PERCo trademark is registered in 20 countries. The company produces access control systems, electromechanical locks, and turnstiles that are exported to 77 countries worldwide. For example, PERCo products are installed and operated successfully at the following places:

sport and health facilities (Greyhound stadium in Ireland, clubs and thermal baths in Reykyavik (Iceland))
power plant in Budapest (Hungary)
sea ports in Corfu (Greece), in Trieste (Italy) and Dubai (the U.A.E.)
universities in Bilbao (Spain) and Auckland (New Zealand)
Bois de Vincennes park in Paris (France)
hotels of Grupo Transhotel group (Spain)
factories in Padua (Italy), Grangesberg (Sweden) and Tallinn (Estonia)
national archeological museum in Valletta and Ġgantija temples in Gozo (Malta)
secondary schools in Warsaw (Poland) and Lisbon (Portugal) etc.
PERCo company has its own manufacturing plant with 15000 sq. m of production space. More than 500 qualified professionals work at this plant. The production process is organized according to ecological safety requirements, and it does not provide any pollution to the environment. Also, the plant is equipped with modern CNC equipment – turret punch presses, bending presses, machining centers, SMT-soldering station, surface preparation line, and powder coating system. Such processes as SMT-mounting, metal turning, milling, cutting, and bending are maximally automated.
All security system products are in-house designed. The R&D division consists of Design, S/W, and H/W departments.
PERCo quality management system complies with the ISO 9001:2008 international standard. Finished-goods warehouse is located in Estonia, the EU. Recently, a service center was established there.
Welcome to PERCo's official website: http://www.perco.com.