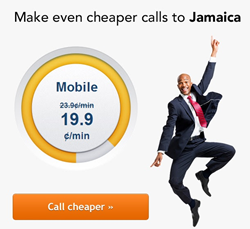 Fast, easy, secure and great value- TelephoneJamaica.com customer on ResellerRatings.com
Atlanta, Georgia (PRWEB) August 21, 2014
Have you heard the news? If not, then now it's the moment to call Jamaica and find out what's new. TelephoneJamaica.com customers may call any mobile in their country at only 19.9¢/min instead of 23.9¢/min and talk about the musical on Bob Marley's childhood that will be released next year. And since the calling rate is now lower by 17%, customers calling mobiles in Jamaica can also chat about their homeland celebrations or just catch up with family and friends back home.
The lower calling rate is in fact the special surprize TelephoneJamaica.com has intensely planned for its customers. 17% OFF to call any mobile in Jamaica translates into 9 extra minutes to call a mobile: for $10 customers now get 50 minutes instead of just 41. If customers need to call a landline in Jamaica, then they may talk for 112 minutes for the same amount, or send 250 texts messages.
Besides attractive promotions and Voice Credit rates, TelephoneJamaica.com offers free features that make the calling experience easy and intuitive: PINless dialing (once activated, entering PIN is no longer necessary) and Speed Dial (assigning phone keys to the numbers called frequently, dialing is reduced to pressing a phone key).
The Voice Credit service TelephoneJamaica.com offers is attractive due to the simple and easy to use options. The minutes can be used when calling from any phone or network:

From any landline, mobile or even payphone in the world, through local or toll free access numbers.
From any smartphone through the app called KeepCalling. The iOS and Android applications may be used to call without having to dial any access number, and even any phone number at all. Once logged in, customers can use their phone Contacts to call.
From any computer with Internet connection through the Web Call application available in customers' online accounts.
Besides calling, TelephoneJamaica.com customers may offer another gift to the loved ones back home in Jamaica: top up the mobile phones of family and friends, via the Mobile Recharge service. Digicel and Lime top ups to Jamaica are available with values starting from $5. All these options were created within the same purpose, of keeping a close relationship with family and friends back home, no matter the country the customers live in.
Several security filters protect customers from possible frauds, making all transactions 100% safe. All major payment methods are accepted: Visa, MasterCard, American Express, Discover and PayPal.
The customer-focused approach, based on safe and easy to use services, is acknowledged by the customers' reviews as well: "Fast, easy, secure and great value." (TelephoneJamaica.com customer on ResellerRatings.com), "My overall experience with Telephone Jamaica is great! I love the convenience of adding minutes to my phone, or top up someone else's phone with credit right from my computer at home" (TelephoneJamaica.com customer on ResellerRatings.com)
About TelephoneJamaica.com:
TelephoneJamaica.com is an interactive website designed by KeepCalling, a global telecommunications company registered in 2002 in USA. KeepCalling services are available worldwide from any computer with Internet connection. KeepCalling, the company behind TelephoneJamaica.com, offers other telecom solutions apart from mobile recharge: Prepaid, Virtual Number, Monthly Plans, Web Call and Web SMS through various ethnic websites. Presently, KeepCalling provides its services to hundreds of thousands of consumers and businesses, with a focus on customer satisfaction. In 2013, Inc Magazine listed KeepCalling as the 16th fastest growing company in the telecommunications industry.