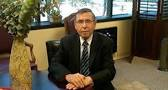 "Ultimately, we are healers," said Rabbi Rosenstock. "We heal everyone."
New York, NY (PRWEB) August 21, 2014
Rabbi Rosenstock was ordained through his studies with the Jewish Spiritual Leadership Institute Online Rabbinical School, in collaboration with online synagogue Sim Shalom. Through G'milut Chasadim - acts of loving kindness- Rosenstock and his work with Ibn Sina has taken Tikun Olam – the act of "healing the world" to new levels.
"Two groups of people come from different sides, meet, shake hands, and through their work, they multiply blessings in the world," said Rabbi Dr. Harvey Rosenstock, a psychiatrist and member of Congregation Brith Shalom who works with Ibn Sina.
The Ibn Sina Foundation was named after an 11th-century Persian Muslim who wrote widely and prolifically on a number of topics. Ibn Sina's "Book of Healing" and "Canon On Medicine" were perhaps his most widely influential texts and methodologies.
The Ibn Sina Foundation created in 2001, currently serves an estimated 85,000 patients in the Houston area with its medical, dental and pediatric clinics. When Brith Shalom became aware of the Ibn Sina Foundation's work, it became involved in recruiting Jewish physicians to serve in the clinics.
"We must serve the community to live the complete Jewish life," said Brith Shalom Rabbi Ranon Teller. "That means both the Jewish community, and the larger community. In this way, diversity is the soil of peace."
Dr. Aijaz Ali Khowaja, Chief Executive Officer of Ibn Sina, noted that: "The issue is not Muslim, Jewish or Christian suffering. The issue is human suffering."
At Ibn Sina, patients pay low fees, are prescribed inexpensive medications, and are seen quarterly by a primary care physician. The foundation's focus is diabetes, heart disease, pulmonary disease, high blood pressure, and high cholesterol. Its surgery, gynecology, cardiology and urology services are volunteered by specialists.
Its humane model of cross-cultural collaboration in a fractious age is worthy of recognition and export, as well.
"Ultimately, we are healers," said Rabbi Rosenstock. "We heal everyone."
About Sim Shalom and JSLI
Sim Shalom is an interactive online Jewish Universalist synagogue which is liberal in thought and traditional in liturgy. Created in 2009 by Rabbi Steven Blane on Manhattan's Upper West Side, Sim Shalom offers a means of connecting the unconnected. Rabbi Blane leads accessible and short Kabbalt Shabbat services every Friday night using a virtual interface and additionally Sim Shalom provides online education programs, Jazz concerts, conversion and life-cycle ceremonies along with weeknight services at 7:00PM EST led by Rabbis and students of this online community.
Rabbi Blane is also the founder and director of the Jewish Spiritual Leader's Institute, http://www.jsli.net, a rabbinical program for second career professionals.
Sim Shalom, a non profit 501 © (3) tax-exempt organization, nurtures a Jewish connection through its mission of innovative services, creative education and dynamic outreach to the global community. For more information visit http://www.simshalom.com or call 201-338-0165.