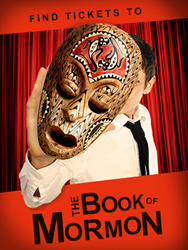 'This play has changed the way I look at musicals. I've never laughed so hard.'
South Windsor, CT (PRWEB) August 20, 2014
The uncontainable laughter of "The Book of Mormon" has made its way to Minneapolis where it will take residence at the Orpheum Theatre from August 20th – September 14th. This short engagement means shows are bound to sell fast. Luckily, there are tickets available at Ticket Liquidator. The 2011 musical has won nine Tony Awards® and one Grammy®, putting performances in high-demand, especially in cities that don't often host it. Therefore, it will be smart to purchase early.
The story of two Mormon missionaries visiting Uganda could not be more outrageous if it were told by any other than the team behind South Park. "This play has changed the way I look at musicals," Brittany Harmon, Theatre Specialist said. "Although groups like Monty Python certainly paved the way, 'The Book of Mormon' is truly unique in its version of comedy and satire. I've never laughed so hard."
Ticket Liquidator makes these unforgettable experiences possible by having tickets to the most popular shows available. "The Book of Mormon" will be dazzling audiences in Minneapolis for the next thirty days, and we want to make sure you have the opportunity to see it while it's in town. Get your Book of Mormon tickets from Ticket Liquidator to avoid sold-out box offices and long lines because you won't want to miss the hilarious soundtrack and comedic genius of Trey Parker, Matt Stone, and Robert Lopez.
###
League and team names are the property of their respective owners. Ticket Liquidator does not claim any right or ownership to any of the team or league trademarks contained in this press release. They are strictly used for descriptive purposes and do not imply an endorsement or partnership.
Ticket Liquidator is an online marketplace for tickets to live entertainment events. Since 2003, Ticket Liquidator has provided a selection of event seating inventory which now exceeds $1 billion. With 7-day Customer Service, PCI and SSL security certifications and a Worry-Free 125% Guarantee and Safety Net Program, Ticket Liquidator ensures that all purchases are made with confidence.