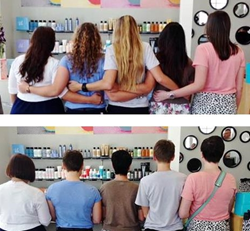 We're all really going to connect and keep a great sisterhood.
Charleston, SC (PRWEB) August 20, 2014
Beginning a college career is a little different for freshmen at The Citadel than it is at most colleges. Just like their male classmates, female cadets in The Citadel's class of 2018 will have to conform to the strict military and academic standards of the renowned Military College of South Carolina. The freshman, referred to as knobs because of their short hair, often wait to get their hair cut upon arrival at the college's barber shop.
But this fall, rather than facing the campus barber chair, four female knobs and The Citadel's assistant director of admissions decided to celebrate their new challenge by going together to get their hair cut to uniform standards and then by donating it to Locks of Love. Locks of Love is an organization that accepts donated hair to use in the creation of wigs for children who lose theirs during cancer treatment.Female knobs must have hair that is three inches long on the top and two inches long on the sides upon matriculation. (Male cadets must have hair cut from ¼ to ½ inch.)
"We know these women are about much more than the length of their hair, but such a drastic change takes some adjustment. We want to help them feel strong, and part of that is feeling good about how you look," said Lisa Roina, Urban Nirvana Salons' manager. "Our mantra is 'Come into your own at Urban Nirvana', and we think helping these women come into their own as they begin this incredible four year challenge at The Citadel strongly supports the mission of our team."
Urban Nirvana Hair Salon in downtown Charleston hosted the young women to show support as the freshmen began their training at one of the toughest colleges in America.
"I'm really excited to be part of a whole group of people who have similar goals to me and we're all really going to connect and keep a really great sisterhood, and even a brotherhood when we meet the guys," said a knob from North Carolina.
"It makes me feel like I'm in something that's so much more, which is what I've always wanted to do," a knob from New Jersey said. "This school is already bringing me more than I expected."
Approximately 8% of The Citadel's class of 2018 are female - a statistic the college is working hard to grow.
"Let this be their first bonding experience. I thought it would be a good idea to help them know that being a knob is not just about changes to their hair and appearance but it's about the changes that will happen on the inside that will make them stronger and event more confident," said Lisa Lugo, assistant director for admissions at The Citadel and member of The Citadel's class of 2002.
The Citadel is a landmark in Charleston, South Carolina that is noted for its military culture, educational reputation, and tradition of preparing and producing principled leaders. The Citadel and it's graduate college (a civilian evening program) have for three straight years been recognized by U.S. News & World Report as the top public college in the South for institutions granting up to a master's degree.